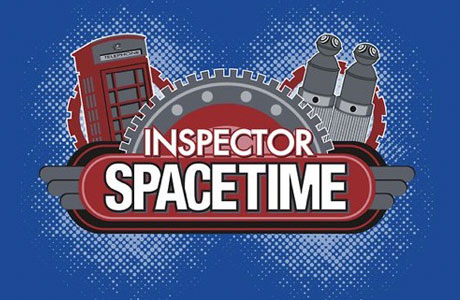 NBC's cult sitcom Community will return next month, and its beloved Doctor Who parody "Inspector Spacetime" may also live on. io9 reports that Travis Richey, the actor who played the title character, announced at Gallifrey One in L.A. that he'll produce the show as a six-episode web series "with the help of fans."
Charlie Jane Anders, who was at the panel, says, "there was a dramatic reading of the first webisode, in which the Inspector and Constable Reginald visit the planet New Seventh Earth Two, where they meet the Blogons, vanquish them with the Inspector's 'optic penknife,' and then run into a deserted warehouse where they get trapped."
Here's a taster of what we can expect:
Here's what else is going on in Whoverville:
• The Radio Times rounds up all the things we know so far about the upcoming season of Doctor Who.
• Meanwhile, What Culture! have come up with an excellent seven-point plan of what the next series should contain, as far as they are concerned. We should go back and check this again, once it has aired.
• One thing we do know is on the way is the final adventure of Amy Pond. Karen Gillan has opened up to IGN about her decision to leave Doctor Who next season. Karen and Who lead writer/executive producer Steven Moffat met for dinner, pow-wowed on a few ideas, and developed Amy's departure story, which Karen says is "the best ever." "I wanted to go on a high," she says. "Also, Steven Moffat comes up with endless, amazing ideas anyway, but I wanted to make sure that I went on a high when the character was at her prime. There's just something quite nice and appealing about that to me. I don't know… It just felt right! I like to go on instinct."
As for returns in the future, Karen says, "I really, really want to have a final exit and then be able to look back on that as a final exit. I don't know… I just don't want to take away from that exit by making cameos in the future. I'd quite like it to be final and for people just to remember it fondly."
• Oh by the way: there will be a complete Karen and the Babes lineup at the Doctor Who convention: Karen has been announced as attending the event alongside Matt Smith and Arthur Darvill.
• Monty Python fans, did you know Sue Jones-Davies, who played Judith in their masterpiece Life Of Brian, originally auditioned for the role of Leela? You do now.
• Doctor Who paperback books, printed by Target, were all the rage in the days before DVDs and off-canon storylines, and proved to be a hugely valuable resource for anyone who grew up watching the later episodes and wanting to know how everything had fitted together in the past. Often they were written by the same people  – Terrence Hicks, Malcolm Hulke – who'd written the script in the first place, so they were filled-out better than your average cash-in novelization. Here Matthew Sweet gives a dramatic reading from the introductory paragraph to Tomb of the Cybermen, explaining their robotic origins.
• io9 has covered the "Doctor Who in the Sixties" panel at Gallifrey One in Los Angeles. And while the sci-fi series has become a massive success over its 50 years, its beginnings were decidedly humble. Waris Hussein, director of the first episode, told io9 that, "A ramshackle studio, Studio D at Lime Grove, cameras that were taller than the camera men who were shoving them around, cables everywhere, [and we had to] continue shooting with four cameras, with no breaks. No slick camerawork here. Sets that were just about put together with the money we had. So you had a hexagonal set for the TARDIS interior, made up of four flats and a hexagonal [control] panel with, I think two buttons and a few lights blinking. And that was what we had to work with."
• What did fans think of the somewhat jiggly sets from the classic Doctor Who days? The official BBC Classic Doctor Who YouTube channel asks this very question of a few viewers. Joe Lidster quite eloquently says, "As a kid, it never crossed my mind. It never crossed my mind that it was a set or that it wobbled or anything like that. I was so caught up in the storytelling and the imagination and that was so much more important." Watch the video:
• What becomes of old TARDISes? Well, writer Paul J. Salamoff is the owner of the Eighth Doctor's TARDIS console, which he has refurbished and unveiled at the Gallifrey One Convention. (And No. 8 himself, actor Paul McGann, dropped by with his son to fiddle with the controls.) LA Weekly has the full skinny, photos and all.
• The ever-informative Doctor Stew gives us "Regeneration 101"
• And here's another delight, albeit one which is more than a little disturbing to anyone who has never pictured what a Dalek snog might be like. Ladies and gentlemen, may we present "Skaromantic Comedy"
• This week's companion is Nyssa, the aristocrat's daughter who lost everything and had to witness the Master parading around space and time looking exactly like an evil version of her her dad.
And speaking of former companions, did you hear about Tree Fu Tom, the children's TV show made by the BBC which features the voices of David Tennant and Sophie 'Ace' Aldred? Radio Times has the story.
And let's end as we often do, with a song. Here's a heroic mix of faintly rubbish cover versions of the Doctor Who theme, some of which sound EXACTLY like the British rock band Kasabian, give or take the odd "oosh!" here and there. Keep an ear out for Jon Pertwee's sonorous poem too:
http://www.youtube.com/watch?v=6_ZxldeB43M
Read More
Filed Under: