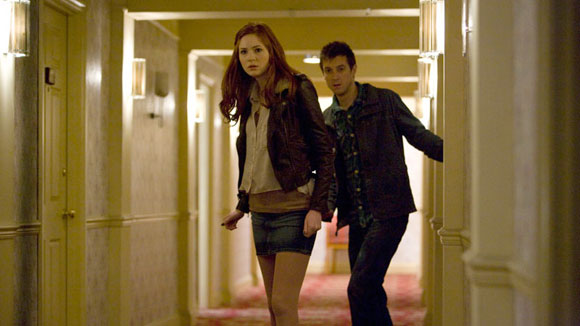 Big news is rolling out on the upcoming season of Doctor Who: shooting will commence on February 20, BBC's Doctor Who website has announced. The first director will be Saul Metzstein (Upstairs Downstairs), with executive producer and lead writer Steven Moffat joining new EP Caroline Skinner and producer Marcus Wilson on the production team.
The show will also be getting some new digs: the new series will be produced at the BBC Roath Lock Studios in Cardiff, set to officially open in March.
Writers for the new season have been confirmed. Toby Whithouse — the brains behind the original UK Being Human and the well-received Who episodes "School Reunion," "The Vampires of Venice," and "The God Complex" — will contribute once again. Meanwhile, Torchwood writer Chris Chibnall will also join this year's writing team. He has previously written the episodes "42" and the two parter "The Hungry Earth/Cold Blood."
The new season of Who will be a momentous one: as we know, Karen Gillan (Amy) and Arthur Darvill (Rory) are set to make their final voyage in the TARDIS this season, and the Doctor (Matt Smith) is set to meet a "new friend." And with the 50th anniversary looming in 2013, there are sure to be many surprises to come.
What are you most looking forward to in the new season?
Read More
Filed Under: