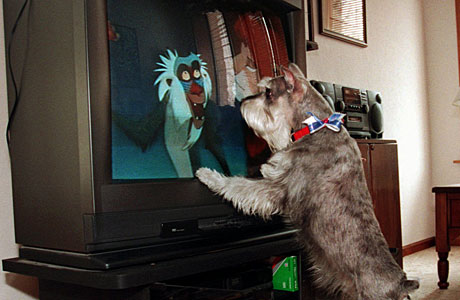 Commercials are already high-pitched, shrill and annoying: the very best way to destroy a carefully built up narrative in a TV show and always louder than the show itself, but did you know these factors are being ramped up in order to attract non-human viewers too?
Tonight, British TV fans will be the first to experience an advert which has been specifically designed to appeal to dogs. It's a one-minute long spoof of the classic Brit-flick The Italian Job (with – get this – DOGS instead of HUMANS!!) filled with noises only canine ears can hear, plus human whistles, and the barks of other dogs. The advert will appear during an episode of the soap opera Emmerdale, on ITV1.
The idea has already been trialled in Austria, and found to be surprisingly effective. Georg Sanders, a nutrition expert at Nestlé Purina PetCare in Germany, told the Telegraph : "Dogs' hearing is twice as sharp as humans. They can pick up frequencies which are beyond our range and they are better at differentiating sounds."
So when this dog food commercial airs, owners can expect their pets to run up to the TV and sniff it expectantly, as if they're excited about the food on the screen, despite the fact that they don't really respond to the kind of visual stimulus a television set gives off.
We'll tell you how it goes tomorrow, assuming it hasn't provoked some kind of feral overthrow of the British human overlords by canine insurgents. A very literal rise of the underdog, in other words.
Oh and by the way, while it's true that canine hearing is sharper than ours, we do better at differentiating frequencies, as this report explains: Why Dogs Don't Enjoy Music.
Read More
Filed Under: