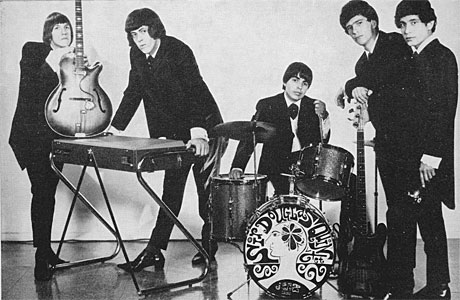 During the mid-1960s, American pop culture was entirely overrun the British. There may have been homegrown talent creating musical wonders left and right, folk may have boomed, Motown and soul music may have been blossoming all over the shop, but the quickest way for a bunch of white kids with guitars to get themselves noticed was to imply somehow that they were British.
Enter Doug Sahm, from San Antonio Texas, just a kid trying to get some attention for his Tex-Mex rhythm and blues combo in the midst of an invasion by mop-headed foreigners. So he capitulates, names his band first Sir Douglas, then Sir Douglas Quintet to try and hoodwink local teens into thinking he might be British. He then puts them in tails and frock coats, and generally fudges the issue of where it is they actually come from. A surprisingly easy feat to pull off, given that there was no internet or iTunes at the time, and the principal source of all music information was either teen magazines, or the little black 7″ records the music came on.
Not that this is anything to sneer at, British rock 'n' rollers were still pretending to be Elvis at the time, and British rappers have only given up on trying to rap in American accents relatively recently.
The thing that makes this situation especially funny is how this US pop TV show treats the band, given the Knights of the Round Table quality of their name. Look at that medieval backdrop. Look at the model of a girl in armoured breastplate. Somewhere, you just know a set designer has thought "we should really make these guys feel right at home. What do British people like? They like castles and stuff, right?"
Make sure you watch it till the end, there's a disclaimer that comes straight out the file marked 'Things We Really Don't Need To Point Out.'
Read More
Filed Under: