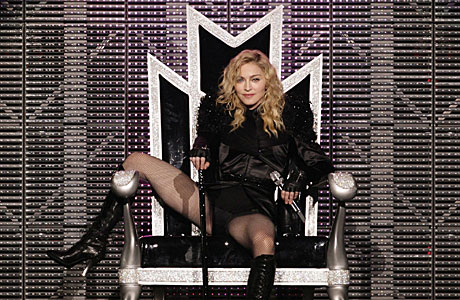 It's easy to see what American celebrities love most about the British Isles, besides our enviable landscapes and delightful way with clotted cream and a scone. England is seen as a haven for etiquette, deference and historical significance. If there was such a thing as The English Dream it would be discovering that you're the long-lost heir to a throne you didn't even know existed, thereby opening a door into a world of privilege, pampering and eternal respect.
For celebrities, the American Dream is fantastic on the way up – anyone can do it, anyone can be a star – but once you're there, there's only one direction you can go. As F Scott Fitzgerald so memorably said "there are no second acts in American lives," but if you can become British royalty, you're set forever.
Now, I am not suggesting that this is why Madonna, who already had a title as Queen of Pop, deliberately came over to Britain, married a well-to-do film director (who was busily ingratiating himself with all manner of rough-necked cockney gangster types at the time), and adopted his flat cap, tweeds and the pastimes of the idle rich  – ie. hunting, fishing, laughing haughtily, not laughing at all, practising a stare so sharp and intense it is like hitting an opponent with a broken marble bust of your own face. Mind you, she did definitely do all of these things, and made a film about Wallis Simpson to boot.
No, I am merely noting that she does have a habit of insisting that anyone who comes into her orbit (including William Orbit) bends to her will, in a most regal fashion.
Think about it, what was Justin Timberlake's most notable contribution to that "4 Minutes" song they did together? He said "Ma-DAWN-a" in a funny way. And he got off comparatively lightly compared to MIA and Nicki Minaj, two incredibly gifted lyricists who were required to suffer the indignity of just cheerleading Madonna's name, and pointing to her, as if to say "we're not worthy," in exchange for the reflected glow from her mighty presence.
Viewed in this context, doesn't that cast a whole new light on the frustrations which may or may not have lead to MIA's unfortunate Superbowl gesture?
The subjugation of her underlings is a trick she has clearly learned from British royalty, and it's serving her very well indeed.
Anyone for polo?
Read More
Filed Under: