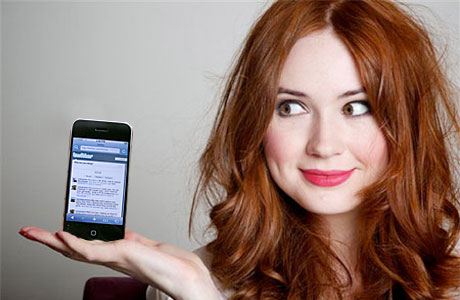 Twitter is a wonder of modern communication, of this we can be in no doubt. How else could you possibly discover a whole range of relatively trivial everyday information about people in the public eye, while watching them chat to friends and colleagues, and sometimes striking up conversations with them (if you are lucky), without risking some kind of court order? Nowhere, that's where.
Of course, if you're a new Whovian to the world of social media, or haven't thought about who to look up, here's a brief guide to help you on your way.
Note: currently, Matt Smith isn't on Twitter, nor is David Tennant. Christopher Eccleston dipped a toe in for a while, and then abandoned it. But they may all come around eventually.
First, a brief sample of some of the veterans of classic Doctor Who who are actively available. And by brief I mean these are the only two I could find:
• Colin Baker (The Sixth Doctor, no less) – @sawboneshex
• Frazer Hines (the ever-faithful Jamie) – @WhoFrazer
and now on to the faces of nowadays. These people need no introduction, right?
• Arthur Darvill – @rattyburvil
• James Corden – @jkcorden
• John Barrowman – @team_barrowman
• John Simm – @john_simm
• Noel Clarke – @NoelClarke
Now a brief excursion into the backstage area, for the writers and producers:
• Steven Moffat – @steven_moffat
• Mark Gatiss – @markgatiss
• Neil Gaiman – @neilhimself
• James Moran – @jamesmoran
• Jason Arnopp – @jasonarnopp
And not forgetting the musical genius behind the show's recent hits:
• Murray Gold – @murraygold
And here's a selection of prominent British guest stars:
• Tracey Ann Obermann (the weeping Cyberman) – @TracyAnnO
• Alexander Armstrong (Mr Smith) – @xanderarmstrong
• Simon Pegg (y'know…SIMON PEGG) – @simonpegg
• Anthony Head (Buffy's mate) – @anthonyshead
• David Walliams (he's a Little British) – @davidwalliams
And for our final two, here are two absolute Who heroes who should perhaps consider updating their feed a little more often:
• Billie Piper – @billiepiper
• Bernard Cribbins – @bernardcribbins
Who have you found? Tell us here:
Read More
Filed Under: