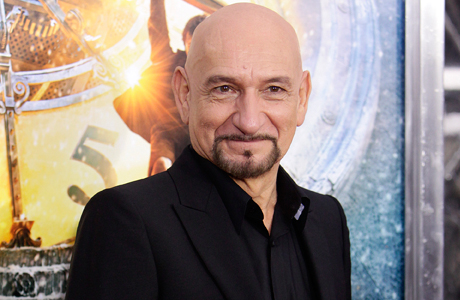 Martin Scorsese's new 3D children's epic Hugo is out now with a cast dominated by Brits. An interesting fact given that it's inspired by a children's best-seller written by an American author — and set among the French in 1930's Paris.
Sir Ben Kingsley, Sacha Baron Cohen, Ray Winstone, Emily Mortimer, and Jude Law are among the British actors featured in the picture.
Some think British accents were particularly effective for the film — but are not quite sure why.
One of the few Americans in the film, 14-year-old Chloe Moretz says: "It worked. You know it just worked. I think it's just the universal kind of European accent."
Sir Ben, who has one of the key roles, says: "I think because it's set in France in the 1930s I think the lingua franca probably had to be British because we all had to form a consistent society and a culture. I think Marty (Scorsese) was encouraged for us all to basically come from the same background."
But there are other reasons why so many Brits populate this picture — which although set in France — was shot largely in England.
Emily Mortimer, who has a small role in the film, proffers one possible explanation. She maintains: "When you decide to make a movie at Shepperton Studios, you do so because part of the deal is that you get tax incentives – and you only get those if you have a certain number of British actors in the movie."
Also, it's much easier to sell a film internationally if the dialogue is in English. French actors, with subtitles, would have presented a bigger marketing challenge.
The film has been getting some very good reviews. The screenwriter describes it as the story of an orphan, who's damaged, lonely and hurt, trying to reach out to make a home for himself.
Sir Ben says: "I find it very difficult to put it into a box for an easy reference. I cannot call it a children's film. I cannot call it a family film, but it's about a child who creates his own family because he's an orphan."
It's bringing Scorsese some excellent reviews. The director is a real cineaste – and a vigorous promoter of film preservation. In Hugo he pays tribute to one of the founding fathers of cinema, Georges Melies, who made "A Trip To The Moon" in 1902 – widely regarded as the world's first science-fiction film. Melies is portrayed by Sir Ben Kingsley – and Hugo is very much a tribute to him.
Sir Ben says: "It's an ode to cinema. It's an ode to childhood – and it's an ode to life really. It's a eulogy to enjoying life to the full."
Read More
Filed Under: