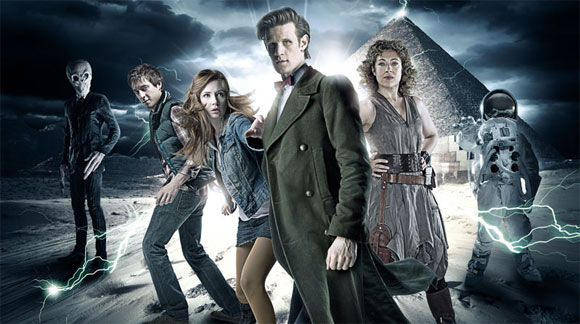 With a whirlwind trip from America's Wild West all the way to White House, Doctor Who's sixth season began in epic fashion. Over the course of those thirteen episodes, we've been spooked by the Silence, angry sirens, the vicious Madame Kovarian, gangers, Nazis, Cybermen, a creepy dollhouse, and one very disturbing hotel. We've been charmed by the marital antics of Amy and Rory, the return of Craig Owens, and the brief but poignant appearance of Idris. All the while, we unraveled the truth about the enigmatic River Song.
2011's Christmas special awaits, but which on-air moment looms largest in the past year in Who-dom so far? Which scenes most made you laugh, gasp, cry, or, quite simply, marvel at their wibbly-wobbly, timey-wimey glory? Let us know in the comments below, and we'll pick out some of your choices for our year-end Doctor Who poll next month.
But, as a refresher, here's a look back at trailers for each episode of the past season:
"The Impossible Astronaut"
"Day of the Moon"
"The Curse of the Black Spot"
"The Doctor's Wife"
"The Rebel Flesh"
"The Almost People"
"A Good Man Goes To War"
"Let's Kill Hitler"
http://www.youtube.com/watch?v=IPhpdZogi_c
"Night Terrors"
"The Girl Who Waited"
"The God Complex"
"Closing Time"
"The Wedding of River Song"
What have been your favorite Doctor Who scenes this year?
Read More
Filed Under: