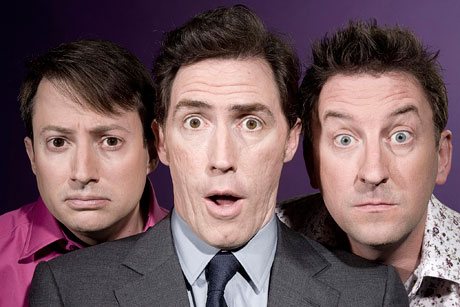 You gather a panel of random funny celebrities in front of a live studio audience, have them one-up each other on some broad topic, and let the hilarity and four-letter words fly. A quick-witted host awards points to the guests with the best answers. It's part game show, part roundtable. Britain has perfected this format, termed the "panel show," into an art form and national pastime. (Over there, panel shows are as abundant as Housewives and Kardashians are on U.S. telly.) Unfortunately, this genre never really caught on stateside.
That certainly stands to change. BBC America is continuing the long-standing UK tradition of panel shows right here on American shores, recruiting the London-based Graham Norton to host Would You Rather? with Graham Norton. It premieres Saturday, December 3 at 11 pm/10c. To give Americans a guide to what they can expect from a British panel show, Buzzfeed has created an infographic, explaining UK faves from Never Mind the Buzzcocks to Stephen Fry's QI. (Click below to enlarge.)
And to give you even more of an idea of what these shows are about, we've gathered some clips. A witty, ginger-haired Benedict Cumberbatch guest-hosts the topical Have I Got News For You. This guy needs to do more comedy!
On Would I Lie To You?, comedian Frankie Boyle reveals that he "thought his entire life was a book read by a bear and that, one day, the bear would close the book and his life would end." It's tale that gets an amusing reaction from an incredulous David Mitchell.
Shooting Stars adds a variety show flair to the panel show (and this episode opens with a song-and-dance routine from Matt Lucas's zaftig homemaker Marjorie Dawes.) If I ever have a game show, I'm going to introduce each contestant by standing behind them, shouting out their names, and making rude gestures behind their backs.
Never Mind the Buzzcocks is all about music, but ever so often you get moments like this, with former host Simon Amstell and an irreverent John Barrowman having a "gay-off." 0:28 is one of the funniest things you'll ever see ever.
Offering viewers a chance to learn while they laugh, QI (short for Quite Interesting) is the "thinking person's panel show." And naturally, it's hosted by the staggeringly knowledgeable Stephen Fry. Here, Stephen subjects his goofy partner-in-crime Alan Davies to a bit of good-natured ribbing.
The improv-based Whose Line Is It Anyway? is one of the few series here that will be familiar to American audiences. (Comedy Central acquired repeats of the Clive Anderson-hosted original, and ABC aired a remake with Drew Carey.) The UK troupe, filled with alums from London's legendary Comedy Store, boasts several American members including Ryan Stiles and Colin Mochrie, who are seen in this rather uproarious clip.
Finally, Sarah Silverman brings her girlishly crude humor to 8 Out of 10 Cats, hosted by the hilariously dark comedian Jimmy Carr. She, comedian Jason Manford, and X Factor host Steve Jones engage in some finger pointing that, somehow, results in the exchanging of kisses.
What's your favorite British panel show?
Read More
Filed Under: