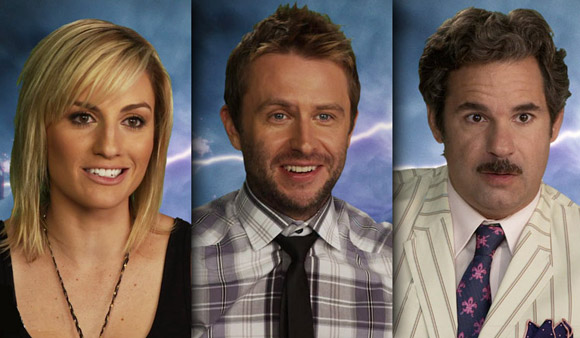 Calling all Doctor Who fans: maybe you've watched celebrities like Chris Hardwick, Scott Adsit, and Alison Haislip on previous Doctor Who Best-Of specials, and perhaps you felt inspired. You thought to yourself, I'm a Whovian. I can certainly speak with wit and insight on all matters Time Lord.
Well, we're making this a Whovian holiday season, and with Doctor Who: Best of the Christmas Specials set to air on December 24, here's your chance to prove your stuff. Grab your nearest camera and upload video of yourself responding to the questions that you will find below. Make your video clever, festive, and full of your personality, and your clip might just be featured on the upcoming program alongside the musings of Hardwick, Adsit, Haislip, Paul F. Tompkins, Reggie Watts, Natalie Morales, Whitney Matheson, and Wired Magazine's Adam Rogers. Click here to upload your submission.
Be sure to present yourself in the best light… and we mean that literally. Good lighting is essential. You don't to want your clip to look like a seedy ransom video shot in the bowels of Demon's Run.
Here are the questions you can answer:
Would you rather go sleigh riding with a Dalek or make snow angels with an Ood?
Would you rather ride with Santa in his sleigh or The Doctor in his TARDIS?
Would you rather find yourself under mistletoe with a Weeping Angel or The Silence?
Would you rather spend Christmas traveling with the Doctor or relaxing at home with Amy and Rory?
Would you rather eat fish fingers and custard or a traditional Christmas dinner?
Would you rather see Santa Claus come down your chimney or the Doctor land in your yard?
Would you rather find a Sonic Screwdriver in your stocking or a TARDIS under your Christmas tree?
By submitting videos to bbcamerica.com, you agree that all videos submitted by you shall not include any copyrighted material and shall not include content containing nudity or sexually explicit materials, obscenities, objectionable behavior, drugs or alcohol use.  In addition the video shall not depict or promote any activity that is unsafe, hazardous, or prohibited by law.  Under no circumstances shall the video feature any music.  For good and valuable consideration for which you hereby acknowledge as sufficient, you are granting BBC America any and all rights to the video for exploitation in any and all media whether now known or hereafter invented throughout the world in perpetuity.  BBC America shall have the right to edit and/or incorporate the video into another work at its sole discretion.  Once you submit the video to BBC America the video becomes the property of BBC America and will not be acknowledged or returned.
Read More
Filed Under: