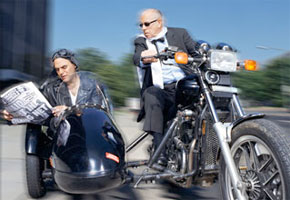 It's always a thrill when a much-loved radio show makes the jump over to TV. Suddenly the faces you've been imagining are doing things of their own accord. The haircuts aren't the same, the smiles at a different angle to those in  your mind. It's like a blindfold being taken off at a surprise birthday party.
And this Christmas, the party will be NPR's weekly radio quiz show Wait Wait…Don't Tell Me! which will have its own end-of-year TV special on BBC America, on Friday, December 23 at 8/7c
The 2011 Year in Review special will take a wry look over the high and lowpoints of 2011 – from a British and American persepective – including viewer contests and celebrity guests from both sides of the pond.
Doug Berman, the show's creator, explained that they're not going to be unduly swayed by the bright lights and TV cameras: "it's going to be pretty much what we do every week, except NPR has to add a budget line for pants."
And Peter Sagal, the show's host, added: "this is terrific, because I always assumed that the only way I could get on the BBC would be to have David Attenborough narrate my mating rituals. Glad this happened instead."
What's your story of 2011? Tell us here:
Read More
Filed Under: