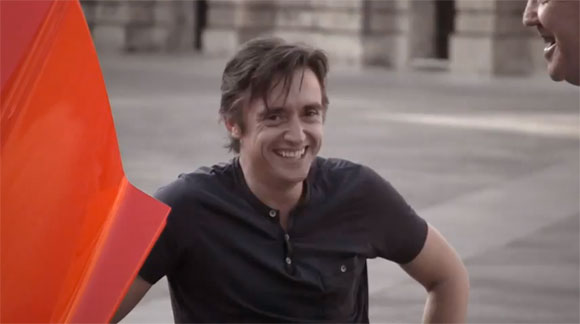 Top Gear was in the picturesque town of Lecce, Italy over the weekend. According to a lucky fan, who shot some footage of the visit to the town's center and posted it on YouTube, "Jeremy has a really deep and powerful voice, he could be heard in every point of the square!" Apparently, Jeremy drives the Lamborghini Aventador, James drives the McLaren MP4-12C and Richard takes the Noble M600.
The YouTube poster wrote: "I'm probably going to be featured in the final version of the film, 'cause Jeremy asked me (and later, the rest of the public) which car I liked most. I answered, 'The Lamborghini, definitely,' not that boring all-engineering-no-soul McLaren… 😛 No one raised their hands for the Noble, not even when Jeremy pointed out that they're built in Leicester."
Another YouTuber recorded this video of the team's Lecce visit:
• "Top Gear Korea is better than you might think," announces Autoblog. "Whether you understand Korean or not," the website adds. To illustrate its argument, the website pointed out a few videos:
And if you like those, Top Gear Korea has an entire YouTube channel.
• It's man vs. car, or rather BMX vs. Fiat, in #44 of the run-up to Top Gear Top 40 Exclusives. It's James behind the wheel, as he competes in an 8-mile race in Budapest, Hungary against a BMX challenger.
The new series Top Gear Top 40 premieres on Nov. 28.
• The wait is almost over — just eight more days until Top Gear Live debuts in Birmingham, England. In addition to the previously reported car Olympics, there will be a 1308 horsepower truck, called the Red Dragon, that fires objects like mopeds and refrigerators into the air. Very useful, and for those of you concerned about the environmental impact, the Red Dragon runs on ethanol. And if you can't make it to Birmingham, the show moves to London from November 24 to 27. (via the London Evening Standard)
• There isn't any aspect of cars left unexplored by Top Gear. Take door handles, for example. The UK website ran an item featuring a photo gallery of their seven favorites.
Read More
Filed Under: