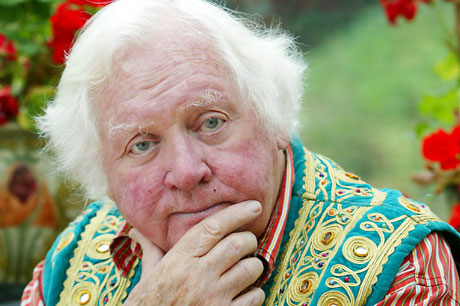 The eternal Enfant Terrible of British cinema is gone.
BBC News reports that Ken Russell died last night at age 84. Best-known for his Oscar-winning Women in Love and the kinetic Who musical Tommy, Russell leaves behind a filmography that still shocks and awes to this day. (And in one of his last hurrahs, he memorably warred with Jade Goody on the most controversial season of Celebrity Big Brother.)
Here are just a few of his best moments:
1. Alan Bates and Oliver Reed's nude wrestling scene in 1969's Women in Love (WARNING: NSFW)
http://www.youtube.com/watch?v=1HvlkL3XVzE
2. Crucified Jesus leaps off the cross and ravishes Vanessa Redgrave in 1971's The Devils (WARNING: this may be disturbing):
3. Elton John singing "Pinball Wizard" in the 1975 Who musical, Tommy:
http://www.youtube.com/watch?v=cySnG42s0lE&feature=related
4. William Hurt's isolation tank scene in 1980's Altered States, featuring crucifixion and animal sacrifice (warning: NSFW):
5. A jaded Theresa Russell as the anti-Pretty Woman in 1991's Whore:
6. Sean Bean and Joely Richardson as stunningly beautiful lovers in 1993's miniseries Lady Chatterley:
7. Ken screams at Jade Goody and bangs the table on Celebrity Big Brother in 2007.
What are your favorite Ken Russell moments?
Read More
Filed Under: