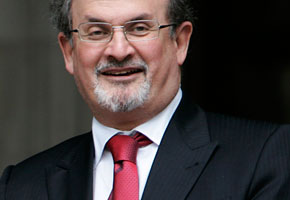 Writers do like to have a muck about with poetic forms, especially the really restrictive ones like haikus. Normally they'll be trying to express some delicate emotion, like the happiness of a summer morn which has just been ruined by a swarm of wasps, chasing after your picnic.
But just occasionally they dip a toe into celebrity waters, as Salman Rushdie did this week, offering his Twitter followers this limerick on the topic of Kim Kardashian's divorce from… a man. Her husband, I expect.
I should probably look him up, right? On the other hand, he's never going to learn our names, why should we learn his?
Anyway, Salman's limerick went like this:
The marriage of poor Kim Kardashian
Was krushed like a kar in a krashian.
Her Kris kried, not fair!
Why kan't I keep my share?
But Kardashian fell klean outa fashian.
Yes, he's taken liberties with scansion there, and that K gag died quite quickl- sorry, kwite kwickly, but still. Salman Rushdie! Kim Kardashian! Limericks! Today is a MAGICAL DAY.
Read More
Filed Under: