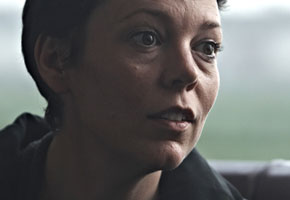 Actress Olivia Colman is emerging as a possible dark horse Oscar contender for her striking portrayal of a woman horrifically abused by her husband in the British drama Tyrannosaur out now.
Of the Oscar buzz Colman says: "I think it's hilarious. It does seem a little silly. It just seems quite farfetched." But she adds, "I'm incredibly flattered. It's like a dream come true."
Right now Colman's status in the Oscars race is that of an outsider — but that could change. If her performance gets recognition in one of the year-end U.S. film critics group awards it could quickly put her on the road for a nomination.
To make headway in Oscars season requires potential nominees to spend time in Los Angeles, where most Oscar voters live, doing press interviews and anything else that might raise their profile — and that's just what Colman has been doing in recent days.
She says she's in Los Angeles to sell the film, which is directed by fellow British actor Paddy Considine.
"We just all feel so terribly passionate about it. I wanted people to see it, so I'm here to see if that will help. I don't know if it will or not," she says.
Tyrannosaur premiered at the Sundance Film Festival earlier this year, and Colman's performance immediately impressed critics.
The actress, who's best known for her comedy roles, points out that it's a move in a new direction for her.
"It differs completely," she told me. "I've never had to go so far into anything, so it's different to anything I've done before."
She also thinks it's the role of a lifetime: "That part is like the part I've dreamt of since I was 12. I can't picture a part better than that coming through the post, ever."
If 37-year-old Colman does get nominated for best actress she'll probably be up against Meryl Streep, who's expected to get shortlisted for her performance in The Iron Lady in which she portrays Margaret Thatcher. Sharing the screen with Streep, Colman plays Carol Thatcher, daughter of the former British prime minister.
Colman is effusive when it comes to discussing Meryl Streep, and she's entranced by the veteran actress's portrayal of Baroness Thatcher. "She's spine-chillingly like her," says Colman, "and it was just mesmerizing to watch her every day."
Noting that her own politics are left-of-center, Colman said she wasn't "a fan" of Thatcher's but points out that the film is "about a woman who was the most powerful woman in the world, who's now in a different place — and it's an interesting story, and it's a piece of fiction."
Playing Thatcher's daughter gave Colman the opportunity to think about her subject. She watched Carol Thatcher in the TV show I'm A Celebrity…Get Me Out of Here! and came to the conclusion that she was fearless.
"If I ever get stuck in a forest or a jungle," the actress says, "I want to be with her."
According to Colman, Carol Thatcher has already seen the picture.
"I hope she sees it as a sensitive piece," Colman says.
Read More
Filed Under: