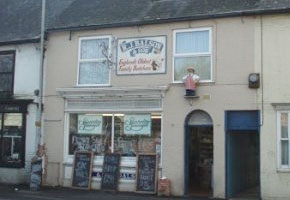 So, you know that the British have been around a while, and we've been keeping pretty good records for well over 1,000 years. How long do you think the longest-running family business in Britain will have been plying its trade? 100 years? 200? 300?
Try 476. That's right, for FOUR-HUNDRED and SEVENTY-SIX YEARS the same family have been running the same business in the same town. And now they've been recognised
Our story begins during the reign of King Henry VIII. He's the one with all the wives, the one who broke British ties with the Catholic church, burned monasteries and generally acted more like an invading Viking than a ruling monarch. It's 1535, Henry has yet to behead Anne Boleyn, and in Bridport, Dorset, John Balson sets up a butchery stall in South Street market. It's a success, and so he decides to keep it going for as long as possible.
When he dies, the business passes down the family, and as people always seem to need meat, they thrive. Abandoning the market stall, they move into a shop, eventually calling themselves RJ Balson and Sons, and settling not far from South Street in 1880.
That's where they've stayed ever since, the business passing down the family with each successive generation. They sell all sorts of meat, from beef and pork to rare game, all over the world, thanks to their website. Now the Institute for Family Business, who've thoroughly researched their many, many years of trade, have announced they are officially the oldest continuously trading family business in Britain.
The current owner, Richard Balson, 54, told the Mail: "It's not always gone directly from father to son – sometimes it's gone to a brother and sons but it has been in the family all the time and in January, my son will come into the business to run the online side.
"He's got a son too, so hopefully it'll keep on going. We started up just before the Mary Rose sank just short of Portsmouth harbour.
"When I was young and I went through school I didn't try as hard as I could because I always knew that I was going in to the family business.
He added: "It's something my father wanted me to do and I wanted to do it as well. I grew in to it because I always lived on the premises."
Donald Balson, his father, who died this year aged 88, said: "The love of the job, which has been passed down from generation to generation, is one of the main reasons we have been successful."
Read More
Filed Under: