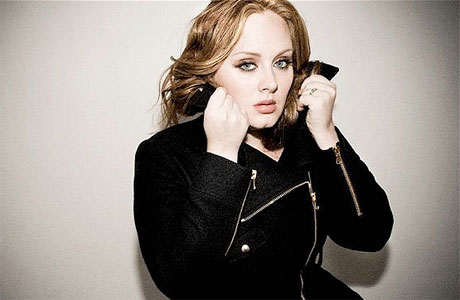 Seeing as the great lady herself is somewhat incapacitated for the time being, and we're feeling public spirited, here are five British singers who could serve as a temporary stand-in for the great Adele, until she's feeling well enough to blow them all off stage with one puff of her mighty lungs.
They're not all brand new, but they've all got that certain something going on in the throatal area.
1: Emeli Sande
Fans of '90s trip hoppers Massive Attack will notice a certain something about this song which is reminiscent of their towering masterpiece "Unfinished Sympathy," those rising and falling strings over a breakbeat, for starters. But it's Emili's powerlarynx which is doing most of the work here, calling down the very heavens above in a manner familiar to Adele fans the world over.
2: Delilah
Meanwhile, Delilah, who is launching her solo career off the back of a couple of high-profile appearances with British rave duo Chase and Status, has a more vinegary, spiky kind of voice. There's less of the primal ouch of Adele, but it does lend itself rather well to doubling up into multiple harmonies, as a brief listen to the end of this song will demonstrate.
3: Rachel Davies (Esben and the Witch)
It's OK, you can used the F-word. Lots of people have spotted a certain tonal similarity between Rachel's primal hoot and that of Florence Welch. And they certainly share a common sense of urgency and ceremonial drama.  But listen again, underneath that wall of whoosh and scrape is a singer capable of calling down the same whirlwind of pain upon bruised feelings that Adele does. With Esben and the Witch, the Dog Days are never over.
4: Anna Calvi
Less primal than either Florence or Adele, but gifted with vocal poise and an impossibly deep croon, especially for a girl. Anna is one astonishing pop song away from total world domination. Or the drooling respect of a world of bloggers and very little in the way of actual records sold. Such is the precarious nature of the modern music business.
5: Clare Maguire
http://www.youtube.com/watch?v=MFrf_0VRObc
Cards on the table, I nearly didn't include Clare because she's been so aggressively marketed towards Adele (and Florence) fans that it felt like taking part in a mass hoodwinking. But you can't deny she can do the job. Great booming bassoon of a voice like that. However, if you're now feeling a little shellshocked by all the mooey ladies in this blog, here's a sorbet to cleanse the pallet. It's the Glaswegian band Laki Mera, who are blessed with the ghostly coo of Laura Donelly:
A different kind of wonder altogether.
BTW: Keep your eyes peeled for Adele later on tonight, as the Grammy nominations are announced.
Read More
Filed Under: