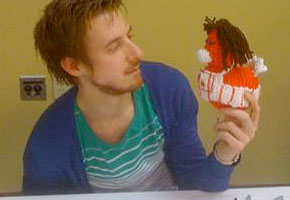 Last weekend was a good time to be a Whovian, as there were not one, not two, but THREE conventions going on at the same time. Not one of which was suffering with a lack of attendees.
The first, Hurricane Who, took place in Florida, and was graced with the presence of one Arthur Darvill. That's him there with a knitted friend from the autograph table.
Then there was Youmacon in Detroit, and Supanova, on the other side of the world in Perth, Australia
Needless to say, the cosplay was fairly intense, as these snaps from the Doctor Who tumblr feed illustrate: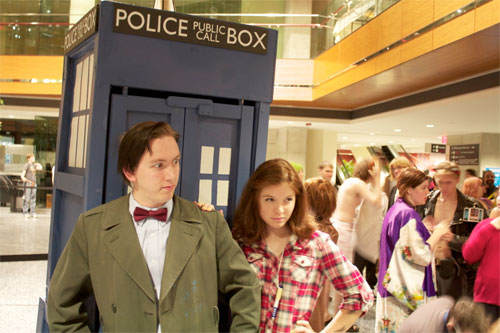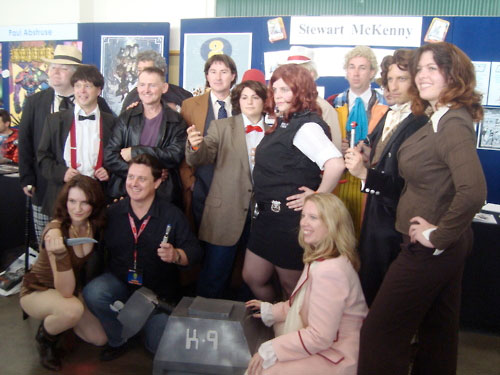 Here's what else is going on at this moment in time and space:
• SFX has pulled 35 nuggets from the late Elisabeth Sladen autobiography, including why her first name is spelled with an "s" (it stands for "star," per her mother), that she'd vomited on politician-turned-media personality Edwina Currie when they were in junior high together, and, well, quite a few interesting tales about Jon Pertwee, a.k.a. the Third Doctor. This is sounding like a dishy must-read for Whovians.
• Over on our regular Companions post we've been looking at the transformation in Rory Williams from a slightly silly boy who felt grateful to Amy for giving him the time of day, to fully-fledged  and dutiful warrior, capable of reprimanding a Time Lord.
• Meanwhile, Digital Spy have put their own list of favorite companions together. We won't spoil it for you, except to say The Brigadier is included, so we were right about him qualifying as a proper companion all along.
• Hats off to Dave Golder at SFX, who has written a very, very good comic summation of Season Six which, while irreverent, does capture a few of the crunching gear changes we've been through since the Doctor first showed up in that cowboy hat. The best bit – for sheer pedantry – is the beginning of the second half of the season, where he writes:
"HITLER: Yes! I'm in the first episode, which is called "Let's Kill Hitler!"
THE ADULTS OF BRITAIN: Wow, an episode where The Doctor kills Hitler? That's a great idea!
HITLER gets locked in a cupboard and is barely in the episode."
• Peter Davison has told Bang Showbiz that he doesn't think it likely that the show will attempt to bring together all of the surviving Doctors in 2013 for the show's 50th birthday. he said: "I feel no need to turn my back on [a guest appearance] but I don't feel like it's the kind of thing they'd do. I'd be very surprised if they tried to do anything involving the old Doctors." (via Den of Geek)
• Are you a fan of Abslom Daak? No? How about Shayde then? Or Frobisher! Surely you like Frobisher? Well, if you've never heard of any of these people, fret not. They are all characters who have appeared in the Doctor Who magazine comic strips in the early '80s, as lovingly compiled by the fanzine Vworp Vworp. Over at SFX they're having a look at the best of them, and naturally they'd like to see some (if not all) appear in the TV show itself. Here's hoping!
• And finally, because we like nothing better than a YouTube compilation, here's a collection of clips from the Fourth Doctor (among others), which shows exactly how much effort went into scripting jelly babies into Doctor Who stories:
Anyone feeling peckish now? Just us then…
Read More
Filed Under: