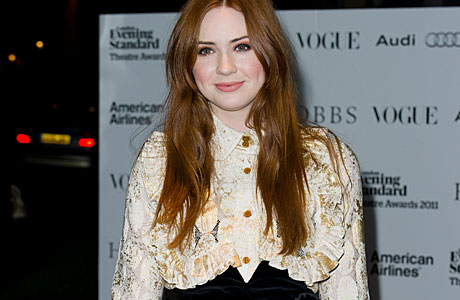 It's tiring work being famous these days. Especially if you're the hot actress from the hottest TV drama in the universe. I tellya, Karen Gillan's hallway must be entirely carpeted in invites, some days.
Take yesterday for example. Having already been to the Evening Standard Theatre Awards the night before, in the fine company of Benedict Cumberbatch and Jonny Lee Miller among others (they had just won a joint award for their work in a production of Frankenstein), Karen's day began with a trip to see Fearne Cotton at BBC Radio 1, with her work colleague Matt Smith. Here's the two of them having a right old chin-wag about the release of the Doctor Who Series Six box set (which you can order TODAY):
Part 1
And part 2:
Then, still beaming, the two of them hightailed it across to the Westfield shopping centre (you'd call it a mall, or possibly a mega-mall. It's big and there are shops, that's all you need to know) to meet the fans and answer questions put to them by BBC Radio 2's Jo Whiley. And all the while, Whovians in the audience mingled with people doing their Christmas shopping.
Still, at least she didn't have to get up as early as Matt did. He appeared on BBC Breakfast News too. On which he revealed that the seventh series of Doctor Who starts shooting in February:
And if you were wondering what Karen's tip would be, for a fine night at the theater in London's West End, watch this video from BBC News…
• Speaking of must-watch videos, have you all seen Matt getting his kit off during Britain's Children in Need telethon last Friday? No? Well here's your chance:
http://www.youtube.com/watch?v=gxIPj2b7h0E
• The event also featured the premiere of the new trailer for the upcoming Christmas special, The Doctor, The Widow and The Wardrobe, which you can watch here:
• This week's Companion is Zoe Heriot, the mathematics whizz from what was then the future, who travelled with the Second Doctor and got her memory wiped for her trouble. Shades of Donna Noble, anyone?
• Last year's Christmas special, "A Christmas Carol," has received an award for its Digital Effects from Britain's Royal Television Society. (BBC News)
• We've said it many times before: Doctor Who fans are some of the most creative people in the world. Some Whovians from Russia have put together this shrewdly edited video, holding up handwritten messages offering Doctor Who honcho Steven Moffat their sincere appreciation and some birthday wishes. (The Moff turned 50 on November 18.) This clip is pretty much perfect, featuring fezzes, a dead-ringer for Karen Gillan's Amy Pond, Tennant specs, and some nods to Moffat's other series like Sherlock. And as we approach Thanksgiving here in the States, it feels rather appropriate, no?
(By the way, the video is set to The Real Tuesday Weld's remix of The Puppini Sisters's "Crazy in Love" a.k.a. a Beyoncé song.)
Read More
Filed Under: