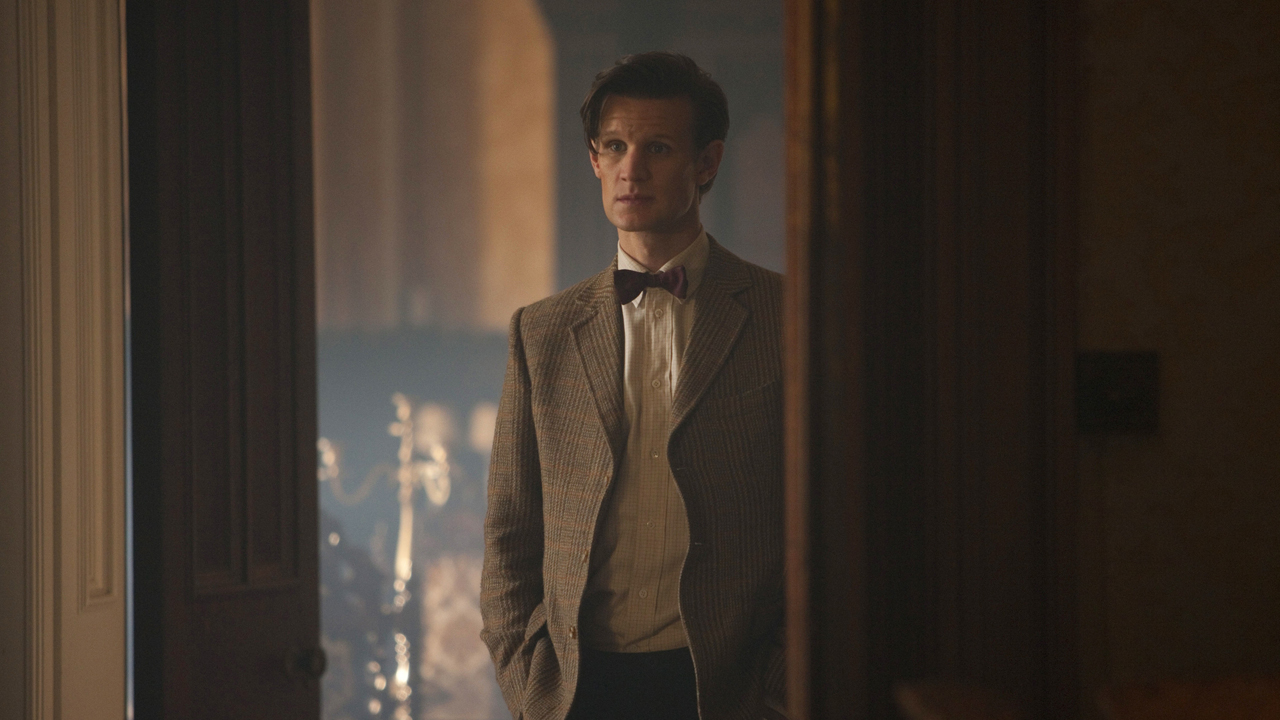 So, the Christmas Special trailer has come and gone, the Children In Need special in which Matt Smith is stripped of his kit by rampaging viewers has thrilled and titillated Whovians the world over and the BBC One trailer which puts the Doctor and Amy in festive jumpers and has them playing Twister with a Cyberman has arrived and left us all feeling rosy and safe. What next?
Well, the U.S. airdate and time have been confirmed: Doctor Who: The Doctor, The Widow and The Wardrobe will premiere Sunday, December 25 at 9 pm ET on BBC America. Here's the trailer again, if you haven't experienced it:
And here's the Christmas cover of the Radio Times, as nabbed by Doctor Who News: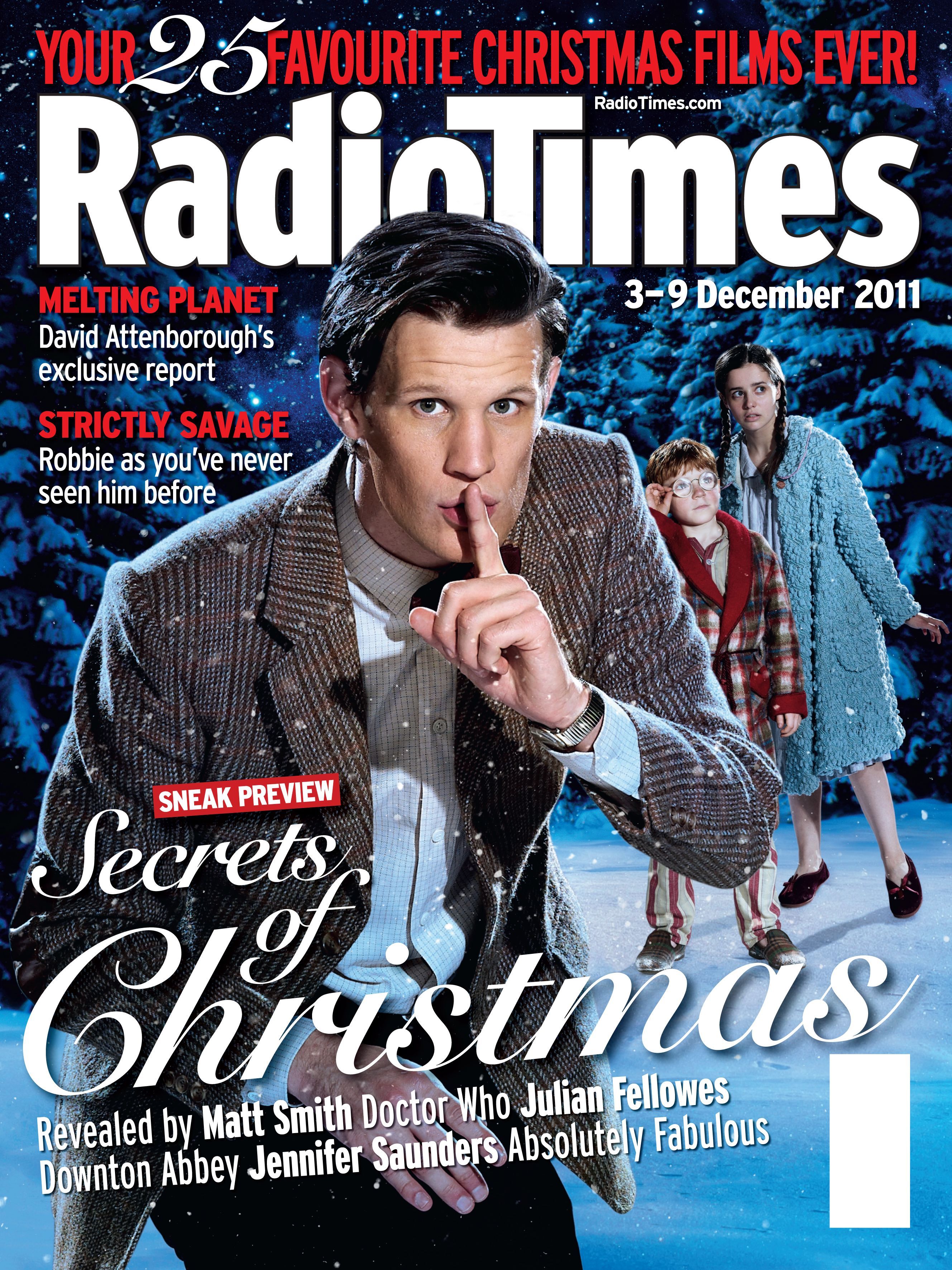 In the issue, out now, Matt Smith also reveals a bit about the upcoming special, The Doctor, The Widow and The Wardrobe: "There's a Narnia-esque shape and feel to the telling of this story. Whereas last year felt more like a Christmas romp, there's a slow-burning, ethereal magic to this."
He also revealed that he very nearly burned his tweedy jacket, during a particularly fiery special effect: "I had just three seconds to jump back from a giant fireball. It was only later that I realized I could have been seriously charred."
• Speaking of the Radio Times, we selected 15 of their all-time best Doctor Who covers in celebration of the show's 48th birthday.
• There have been lots of tributes to Who for its 48th, but one of the best has been a clip-filled journey through Who-story set to OneRepublic's "Marchin' On":
• Oh and speaking of anniversaries, a belated happy birthday to Karen Gillan, who was 24 yesterday. Let's hope her birthday cake looked nothing like this: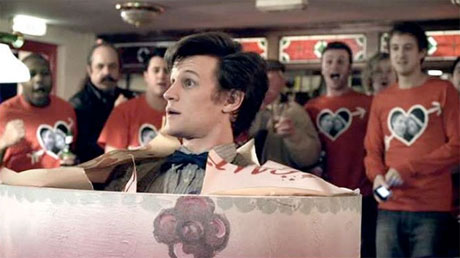 (Although, if any cake-decorators are looking for ideas…)
• In this week's Companions feature, we finally look at the one TARDIS traveller we'd been desperate to mention from the start. But wanted to give the others a chance, because in a very real sense, they all exist in her shadow. Ladies and gentlemen, Ms. Sarah Jane Smith…
• Steven Moffat has confirmed there will be a slight delay before the next full season of Doctor Who. Speaking to Doctor Who Magazine, he said it's partly because the show works best when the evenings are drawing in: "Doctor Who in the summer? All that running down tunnels, with torches, and the sunlight streaming through your windows and bleaching out the screen? All those barbecues and children playing outside, while on the telly there are green monsters seething in their CGI-enhanced lairs? It's just not right is it? Be honest.
"For me, as a kid, when the afternoon got darker and there was a thrill of cold in the air, I knew that even though summer was over, the TARDIS was coming back! So yes, that's part of the plan, that's part of the reason for this little delay. But it's not the whole story." (via Digital Spy)
• Mind you, to really set your nerves jangling, imagine if, while watching an episode about the daleks invading Earth again (as they often like to do), a foot-high Dalek rolled across the carpet, right before your very eyes, seemingly controlled by Dalek High Command on the screen. Well, that what may well be on the way.
The BBC has been developing some new forms of TV interaction, where web-connected devices – in this case Dalek toys – can react to the action appearing on-screen. It's called Universal Control, and has already been tested on an episode of Doctor Who.
Which can only mean we are one step closer to a time when cookery shows can deliver actual steaming-hot dishes to your lap while you watch. (via Radio Times)
• Forgive us if you've already seen this, but did you know that the Doctor Who production team created wads of fake currency for The Runaway Bride, Catherine Tate's first story with the Tenth Doctor? And did you know they had David Tennant's face on them? Well you do now, look: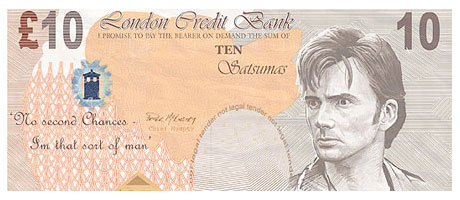 Note: They had to make the notes like that because it's illegal to create false currency which could in any way be mistaken for the real thing. And because it's fun. That's why they promise to pay the bearer on demand the sum of ten satsumas. (via Shadowlocked)
Read More
Filed Under: