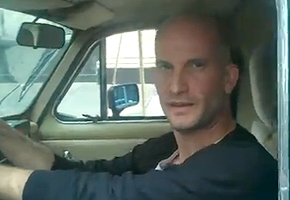 In 2006, a British chap named Leon Logothetis decided to travel across the U.S. on $5 a day without any credit cards, cash, or even a cell phone. His mission — to explore the U.S. and see what transpires when he relies not just on himself, but also on the kindness of strangers. After getting by with a little help from his newly found American friends, chronicled in his new book Amazing Adventures of a Nobody, Leon is giving back with a little kindness of his own.
At this time, Leon is somewhere between New York and L.A. driving a 1985 British vintage taxi, which he calls The Kindness Cab. He's giving "free rides to all" or at least to those who find him by way of his website, Facebook page, Twitter feed, or a lucky encounter with Leon himself. His three-week journey across America started in New York's Times Square on October 24 and will end in Los Angeles at the Hollywood sign on November 15, which also happens to be National Kindness Day. (Yes, there is such a thing. It's the start of World Kindness Week. Yes, there is such a thing.) He will stop in the communities that helped him back in '06, and the mileage money he collects in each city will be donated to a children's charity.
I spoke to Leon from New York a few days before he set off on his trip. While he may be new to driving a vintage taxi, he is no stranger to travel, connecting with people, fulfilling his dreams, and finding a little calmness in a crazy world. If anybody seems well-suited to give Americans a lift, it's Leon Logothetis.
LD: You said you were inspired by the film The Motorcycle Diaries. You were living a 9-to-5 existence but you saw that film and became inspired to change.
Leon: Absolutely. In the film, Che Guevara realizes what his family wants him to do is not necessarily what he wants to do. His passion comes out during the journey. That's what happens when I travel. It's a magical thing for me not to be sitting behind a desk. I love inspiring people and being inspired by people. I can't do that behind a desk. Others can but I can't.
LD: So you're a revolutionary starting a Kindness Revolution?
Leon: Not a revolutionary per se but one who wants to live fully. Anybody who wants to come along for the ride could. It's fun.
LD: Ok. What's the best way for a Brit to approach an American stranger?
Leon: Just speak. Americans love the accent. They love the English. When I did my trip across America, it did help. They trust you a bit more.
LD: So the British accent makes you seem more authoritative, more trustworthy?
Leon: Obviously I don't have more authority then someone who doesn't have my accent. It's a bit of a perception thing.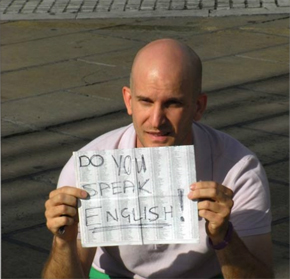 LD: You also said Americans were on the whole nicer than Europeans.
Leon: I did find that. I don't want to disparage Europeans but there's something about [Americans] that's different, something so welcoming and warm, loving even.
LD: Have you spent much time here in NYC?
Leon: (laughs) Bigger cities can be more challenging compared to the heartland and sometimes in New York, where people are very busy. It's a very driven city. You have to go a little deeper to connect.
LD: What's the longest distance you're willing to take people?
Leon: As far as they want to go. This is an experiment of sorts. I just want to be of service. When I drop people off, the meter goes towards buying books for local schools. So whenever someone leaves the cab, I write the down amount and pay it to the charity.
LD: Who pays for that?
Leon: I do. Out of the proceeds from my book, Amazing Adventures of a Nobody. There will also be a virtual meter and however much money that's accrued will go to a charity to be determined based on my experiences.
LD: Do you have support from family and friends?
Leon: Moral support.
LD: So they don't think what you're doing is a little crazy? Picking up random strangers and giving them a ride?
Leon: They've long stopped wondering about my sanity. They let me be and do what I want, because at the end of the day they enjoy my adventures as much as everybody else and I do. When I first started my trips and traveling around the world, they said, "Hmm, this doesn't seem very normal."  They soon realized this is my life and this is what I want to do. I am driving a 1985 London taxi instead of sitting behind a slab of wood, which is what I used to do.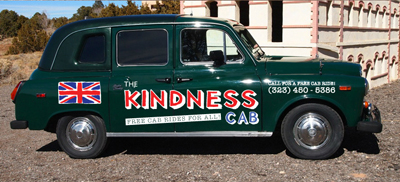 LD: Did you have any fear when just quit your job and started taking these trips?
Leon: I certainly had fear when I first started. I definitely had an epiphany after watching the movie. It was the catalyst, but how did I manage to get out of [my old life]? It kind of just happened. I didn't think I could do it, neither did a lot people, but it just happened. Something was looking out for me. Best way I can answer it.
LD: What kind of car is it?
Leon: The cab came from Santa Fe, New Mexico. I found this lovely chap who purchased a cab, I was looking for one and he was looking to sell. It's a London Sterling, 1985. It was one of only 250 made for export to America.
LD: So where are you going to sleep?
Leon: I'm going to sleep with random, oh, that doesn't sound good —
LD: You want to take that again?
Leon: (laughs) Who knows. Maybe sometimes I'll sleep in a hotel. Kind strangers who will put me up. You never know. Just embrace the mystery of it all.
LD: Do you believe in karma? Do you practice yoga?
Leon: I do believe in karma. Tried yoga but my legs were finished. I do believe if you give and give back, hopefully good things will happen, but that's not why I do this. I do this to connect with people.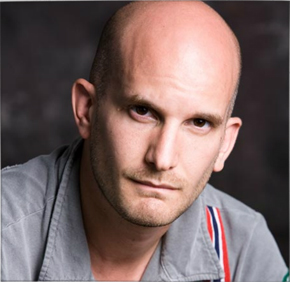 LD: What are some of your favorite BBC shows?
Leon: My favorite, which you probably won't know about, is called Match of the Day, an English soccer show on every Saturday night.
In America, I like Gordon Ramsay, he's quite the character. Doctor Who.
LD: What's next after this adventure?
Leon: I'm always looking for new adventures. If anybody has any ideas, let me know.
LD: Your trip finishes in Los Angeles on National Kindness Day?
Leon: Yes, and there's also World Kindness Week. It's just about being kind to others and bringing attention to the fact that it's so simple to show kindness to a stranger, loved one, or to yourself. Can't tell you how many times I've done the opposite, showed myself no kindness. I'm sure there are people out there who can relate to that. Why not just be kind. So simple but difficult to do. Simple in theory.
LD: Have you read Streetcar Named Desire?
Leon: No, so sorry I've not. I think I'm going to add it to a little mini library in the back (of the cab).
LD: How long has your book been out for?
Leon: About a week.
LD: Plenty of time to rack up the sales to cover those meter fares.
Leon: It's more important to me to inspire than to sell. That's the truth. It's not about making tons of money at this point. It's about inspiring people.
LD: Who inspires you?
Leon: Nelson Mandela. What he went through for all those years and how he managed to fight his way out of that prison cell and forgive. So inspiring. Winston Churchill [for] standing up to the Nazis and saving a whole continent from destruction. And, my little dog Winston. Named after Winston Churchill. He's spontaneous. Adventurous. All he wants to do is have fun. And isn't that what life is all about?
Read More
Filed Under: