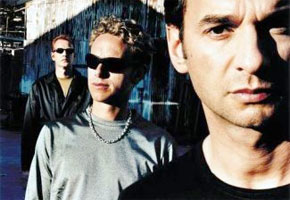 This week has officially been designated as '80s Music Week on Anglophenia. And to kick us off, here's a brief stone-skip across the career of a band who could not be more '80s if they tried. Arriving at the beginning of the decade on a synthpop ship that appalled red-blooded rock fans and delighted everyone else, they survived the loss of their principal songwriter and guiding light – Vince Clarke – before settling down to become exactly the kind of rampaging rock behemoths (dressing like Judas Priest, developing drug habits, the lot) the rock fans had would've loved all along.
So here are five of the best Depeche songs, and you can all shout at me underneath for the ones I left out, OK?
Just Can't Get Enough
There is no hint within this fizzy little pop song that the Mode would bulge and grow, Hulk-style into a big scary monster of a band, no matter how much leatherwear they have managed to squeeze themselves into. However, this is one of Vince Clarke's crowning glories, an astonishingly catchy pop song, rendered on these (still) brand new instruments called synthesizers, and sounding so remarkably fresh and alive that it was covered recently by the Saturdays (UK girl band) and all they did was add their voices to Vince's 30-year-old arrangement. A massive hit ensued.
Personal Jesus
There was a brief vogue in the '80s for writing satirical songs about televangelists. Genesis had one called "Jesus He Knows Me," for example. But none of them reached dark, twisty depths like this. It's a song which accesses all of the sinister implications of unscrupulous people attempting to use the television to poke the faithful into generating piles of money for themselves, while at the same time carrying enough Old Testiment fire and brimstone to represent the fears of the faithful in the first place. It's like being told off for putting too much faith in God, by Satan. Small wonder Johnny Cash took such a liking to it.
Somebody
As eloquent a dissection of what people actually want from relationships as you'll find in popular music, and a song where the words do not appear have been squished in order to serve the rhythm of the melody (which is also very good). A quiet truth, put simply and uncluttered by, well, anything.
http://www.youtube.com/watch?v=OIpum4NAapg
Enjoy The Silence
OK, so New Order (and the Cure) did something like this noise first, but did they do it this well? The secret ingredient, once again, is Martin Gore's painful sincerity: "all I ever wanted, all I ever needed is here in my arms," sings Rockin' Dave, while sounding terrified and mournful and unsure of himself. This isn't a song of reassurance or happiness, it's a song which demands a commitment to a brief moment of peace and respite in the middle of a force 10 bleakstorm.
I Feel You
Their most properly rock moment to date, in that Dave the Rooster bellows lasciviously like he's Jim Morrison at the other end of a long corridor, while Martin churns and churns away on that great fat dirty riff (which, oddly seems to owe a certain rhythmic element to the Doctor Who theme music, albeit slightly slower). Add a few aroused harmonies and the occasional sound of collossal stone axes being sharpened on a wheel, and hey presto! Electropop delivers the blues.
Go on then, what can't you believe I left out? Tell us here:
Read More
Filed Under: