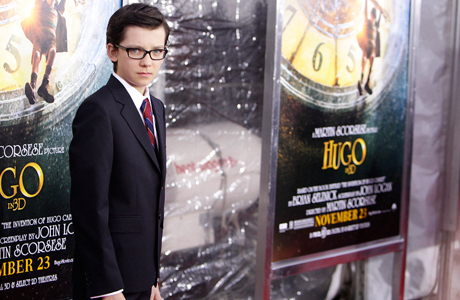 Martin Scorsese's new film Hugo relies heavily on the talents of 14-year-old British actor Asa Butterfield who, as the title character, appears in virtually every scene.
But for Butterfield, who began acting seven years ago, there was never a moment when he thought he might not be able to pull it off. "You can't afford to think that way when you're acting," he says.
Hugo is an orphan who lives within the walls of a Paris train station in the 1930s tending to the clocks. He's frequently chased by a stern station inspector played by Sacha Baron Cohen.
Butterfield worked, both physically and intellectually, to make sure he was up to the challenge: "I did lots of preparation — jumping over things — and I was taught how to take apart watches, put them back together. I watched lots of old films to really get into the mindset of the 1930s and what it was like in those times."
Scorsese is best known for his classic crime dramas, so doing a children's movie was a move into very new territory. It's also his first film in 3D. He revealed that part of the reason why the story had appeal was that it was told from a child's point of view. That resonated with him because of his involvement with his young daughter and her friends and observing how they see reality. Scorsese is fascinated by the way children view what's around them: "Their way of seeing the world and questions and statements and fears and dislikes… colors, food. Everything makes you rethink being alive."
Butterfield found that Scorsese didn't keep a tight rein on him – or his 14-year-old American co-star Chloe Moretz. "He let the actors come up with their own ideas to bring to the performance. Plus me and Chloe were the only kids in the film. We could sort of show what a child would truthfully react in certain situations, rather than an adult's thinking how a child would react," say Butterfield.
Hugo has been getting some strong reviews, but commercially it may be a tough challenge to keep box office buoyant. Although it's being pitched as a family film much of the story will be above the heads of children, but even if it is there is more than enough magical 3D to keep them happy. Some critics think the film makes one of the most effective uses of the 3D format to date.
Are you planning to see Hugo? An Asa Butterfield fan? Tell us below:
Read More
Filed Under: