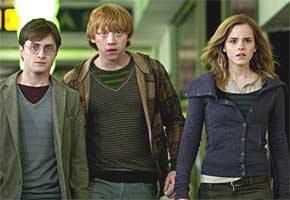 Remember a while ago we told you about the documentary film Morgan Matthews had made about the making of the last two Harry Potter films? Well it's finished now, it's called When Harry Left Hogwarts, and we've got the trailer right here.
Things to look out for: Emma Watson pointing out that people have been expecting the three young stars at the heart of the franchise "to screw up" ever since the first film, and will continue to do so.
Jason Isaacs threatening Morgan with his career.
Gary Oldman's calm disappointment about the results, before the film has even been shot.
Read More
Filed Under: