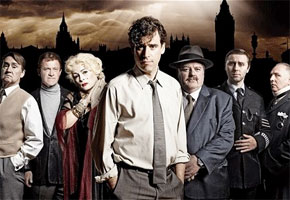 This might take a little explaining so bear with me. In the 1980s, when British TV took the quantum leap from three channels of TV to four, Channel Four (the fourth channel) commissioned a series of one-off comedies called The Comic Strip Presents… These featured the best of the (then) new wave of alternative comedians – Rik Mayall, Robbie Coltrane, Keith Allen, Ade Edmonson, Jennifer Saunders, Dawn French – parodying, well, everything from westerns to Enid Blyton to horror movies.
They really found their niche when they hit upon the idea of portraying political events as if they were big budget Hollywood movies. There was Strike! the story of the 1994 miner's strike as if it was a movie starring Al Pacino as miner's leader Arthur Scargill, and Meryl Streep as his orange-peeling wife.
Well now they're back, doing the same sort of thing, only this time it's a 're-telling' of our former Prime Minister Tony Blair's last years in power as if it was The 39 Steps (or, very possibly Kind Hearts And Coronets). Stephen Mangan plays Tony, and the cast features Robbie Coltrane, Rik Mayall, Harry Enfield, Nigel Planer, James Buckley…and a quite astonishing performance by Jennifer Saunders as Margaret Thatcher.
Here's a trailer:
Looks rather good, wouldn't you say?
Read More
Filed Under: