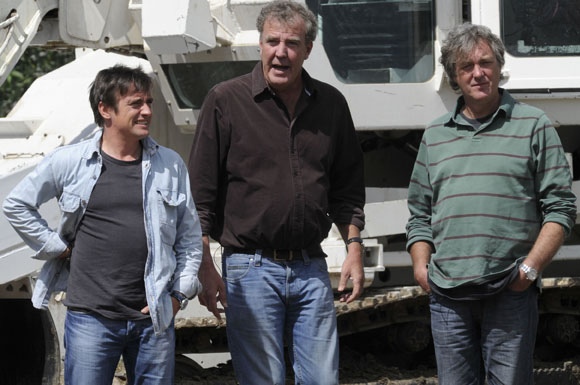 • More details are emerging about this year's Top Gear Live show. Jeremy Clarkson, Richard Hammond, and James May apparently can't wait for the 2012 London Olympics — or are perhaps feeling they've been unreasonably shut out of the games — so they're staging their own Olympic-style competitions for the live event in November. Included will be a Moped Chariot Race – pace, Ben Hur – and "car curling," which apparently involves placing cars on castors and trying to guide them towards targets. There's also going to be something called "Splat the Rat," which, because any rodents will be replaced with remote mechanical cars, should avoid the wrath of animal rights groups. Probably. (via The Telegraph)
• The guys have gone to India to film the Top Gear Christmas episode. While they were in Mumbai, Jeremy, Richard, and James "were spotted in a district of the Indian metropolis with three very different cars in what appears to be another one of their crazy challenges," writes the Daily Mail. The cars were a Mini, a Jaguar, and a Rolls Royce. There were no reports that the city of Mumbai had been permanently harmed.
• Jeremy Clarkson is the voice behind the new trailer for the Xbox 360 Forza Motorsport 4 video game. It's a highly-produced, Hollywood style promo that will have you lusting not only for the game, but for a movie as well. Take a look:
http://www.youtube.com/watch?v=2YgbtHUqYfI&feature=player_embedded
• After a Columbus Day Top Gear marathon, watch two new back-to-back premieres from the famed group of "lost shows" from Season Four. You'll be glad they found them. In the first episode, airing Monday at 8 pm/7c, the emphasis is on "cheap" – Jeremy, Richard and James see what kind of ordeals inexpensive cars can survive, while Katie Price is "the star in a reasonably priced car."
• Thanks to our friends at the Top Gear Tumblr for reminding us that there's a Top Gear magazine in the UK. And the magazine has a new look. In this month's issue, turbos are here to stay. And there the editors referee a contest: the new BMW M5 vs. Mercedes E63 AMG. "Stigness," they write, "ensues." Here's the scoop. And here's the video:
http://www.youtube.com/watch?v=HzJtokF4VKs&feature=player_embedded
By the way, you can apparently subscribe here in the U.S.
• British petrolheads will now have the chance to watch Top Gear U.S.A.. As TopGear.com reports, BBC3 will begin airing the first season of History Channel's breakout hit starting Friday, October 14.
Read More
Filed Under: