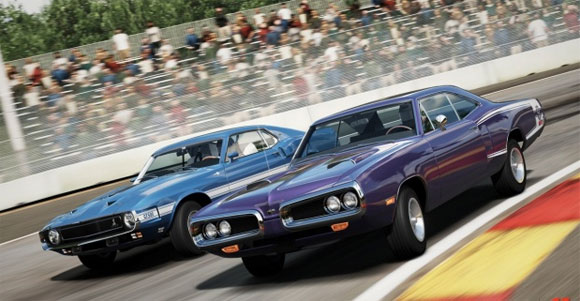 • The newly released video game Forza Motorsport 4, to which Top Gear has loaned its expertise and Jeremy Clarkson his voice, is a hit. Wired magazine calls it "a joyous celebration of speed" and particularly enjoys Top Gear's "car soccer" and the new interactive community "Rivals" mode that allows you to challenge other users to Top Gear events.
• The reviewer for Jalopnik wrote: "In the 60 hours I've spent with the game, I've neglected my friends, family, and colleagues, my job, and my own personal hygiene. Aliens could have landed outside my apartment building down here in Manhattan's Financial District and I wouldn't have even noticed. Come to think of it, given the large masses of people holding signs and chanting outside right now, maybe we were invaded." He particularly liked the game's Autovista mode, in which Clarkson offers gamers a walk-though of 24 different cars. "It's like watching 24 Clarkson reviews in a row," Jalopnik noted approvingly, as the website unlocked and offered all of them, right here, for your perusal.
• The Wall Street Journal adds, "One hook with Forza has been its tie-in with the BBC's Top Gear show. I loved listening to Jeremy Clarkson's descriptions in Autovista and other integrations throughout races and other parts of the game. The whole thing just feels elegant and interesting, not at all forced."
• IGN gives it a 9.5 out of 10 and labels it "amazing," adding, "With Clarkson's help Forza 4 is positioning itself as an ode to the automobile of sorts. A celebration of all things four-wheeled and fun in one accessible package. Forza 4 is Turn 10's tilt to create the world's best and most comprehensive racing sim, to build an essential destination where car lovers can gather to trade, tune and take each other on.
"And it's hard to argue the crew hasn't succeeded."
• A launch day trailer was released for Forza Motorsport 4 on Tuesday (October 11), and it features epic voiceover from Jeremy Clarkson:
http://www.youtube.com/watch?v=oEdMehnjSuM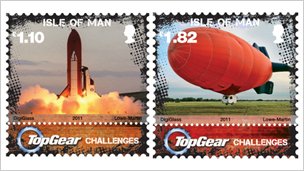 • The post office on the Isle of Man — a tiny British crown dependency off the west coast of England — will release special Top Gear stamps featuring vehicles used in challenges on the series. BBC News reports that the vehicles will include "a caravan airship, a two-storey Citroen caravan and a Robin Reliant space shuttle."
• In Episode 5 of Season Four's "lost episodes," the boys take a few high-end cars — the BMW 645Ci, the Jaguar XKR, and Porsche 911 Carrera 2 — on a punishing spin in South Wales's Pendine Sands, a popular stretch for racing. Episode 5 premieres Monday (October 17) at 8/7c, followed by Episode 6.
• Some more video goodness from Season 17. This time, it's a clip of Richard Hammond giving the Hummer-like Marauder an urban test drive and lots more. By the way, the "car" weighs 15 tons and costs £300,000 ($470,880). So if you can afford one for non-military use, you're probably not the kind of person who worries about high gas prices — or the future of our planet. But that's not what concerned Richard, who says: "I'm both worried about bumping into things because it's big and also not worried about bumping into things because, frankly, who cares." If you want to see the Marauder live up to its name and also how it shapes up in an highly-charged comparison to the Hummer, watch to the end.
• U.S. Top Gear host Tanner Foust, oft compared to Richard Hammond, tells The Scottish Daily Record that he and his co-hosts aren't trying to fill the roles of their UK counterparts. "The only similarity to the Hamster is I am the shortest of the three. Outside of that, we are completely ourselves and we have never tried to fill those roles. It would be impossible. They are the best in the world at what they do."
Here's a bit of video of Mr. Foust being interviewed back in September 2010:
Read More
Filed Under: