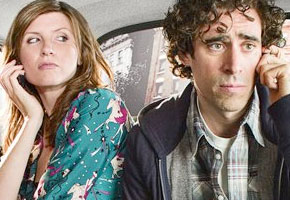 This Saturday, the UK version of the hit comedy Free Agents premieres on BBC America, with back-to-back episodes from 11pm/10c. If you've not seen the American remake, it's the story of a bunch of badly-behaved office workers (they happen to work for a talent agency), all of whom are trying not to bring their personal lives into work and failing badly, apart from Anthony Head (Buffy the Vampire Slayer, Little Britain), who really has to be seen to be believed.
Naturally, as it's a black comedy and based in an office, the immediate comparison would be with The Office, although the two shows treat some situations in very different ways, as this handy guide shall illustrate:
The Office Romance
On The Office, we have Tim (Martin Freeman) and Dawn (Lucy Davis), two people with a perfect connection who cannot be together because Dawn is engaged, to another member of staff, while Tim too bound up in the etiquette of office romances to chance his arm. Their entire courtship is kept in secret, even from themselves. Meanwhile, on Free Agents, there's Alex (Stephen Mangan) and Helen (Sharon Horgan), who aren't so much star-crossed as scarred, cross lovers. Alex has just been dumped by his wife, and he's not sure why. Helen's fiancé died, and she's still in pieces. They're friends, and so their conversation is often more intimate than their intimacy. And they think that they've had a one-night stand.
The Inappropriate Boss
David Brent is a bit of an idiot, and a man who clearly fancies himself as someone special. So special, in fact, he believes that the documentary cameras which are capturing his every move will catapult him to immediate stardom. So he acts accordingly, while everyone around him continues with their daily work. His counterpart in Free Agents is Stephen, played by Anthony Head. Stephen is already someone special, and he seeks to prove this by, well, having a lot of sex. And talking about sex. And thinking about sex. All. The. Time.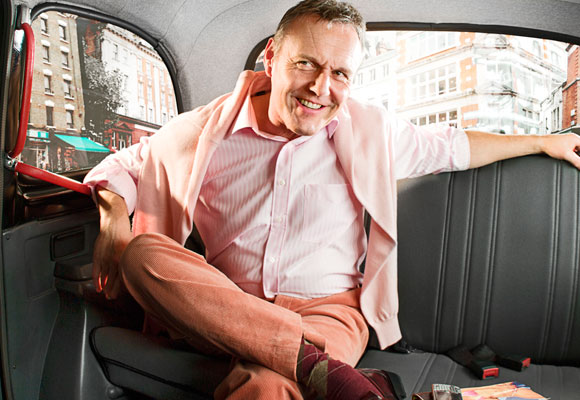 The Work
It's probably just as well that all of the people in Free Agents work for a talent agency. If they worked for a paper supplies company like Wernam Hogg, they'd get sacked. There's something about the flightiness of media jobs that makes sleeping in the office, staggering in late, drunk, and being Stephen all the time, seem slightly less unacceptable. And while The Office left a lot of the bits where people are just cracking on with their work, not taking a tea break, not chatting, not paying any attention to whatever madness Brent is working his way though, with Free Agents there isn't really much of a grindstone for the characters to put their noses to.
The Not-Work
Apart from when they're having a party or a quiz, you never see anything of the domestic arrangements of anyone in The Office. So much so that when, in the Christmas specials, we saw David Brent drunk in a hotel room, it felt a little too intimate at times. With Helen and Alex, their out-of-work lives are so chaotic that they only really seem to function as people when they're at work. Alex has nowhere to live, Helen is drinking heavily, and they need each other as a leaning post. Not that they'd admit it, obviously.
The Supporting Cast
Just as every good office needs assistants, every good comedy needs its mechanicals, the low-status idiots, the people without a fully rounded personality whose quirks pretty much are their character, and are chiefly there to drive the plot, provide the laughs, and make the central characters look more normal. The Inbetweeners has Neil and Jay, The Office has Gareth, and Free Agents has the would-be ruthless superagent Dan – played by Matthew Holness (who fans of The Office will remember as Simon, the IT man) – and the actually ruthless keeper-of-secrets Emma, played by Sara Pascoe.
Free Agents is on BBC America on Saturday October 8 at 11pm/10c.
Read More
Filed Under: