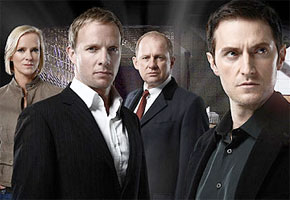 Don't read this if you're a fan of the BBC spy drama MI-5 (known as Spooks in the UK) and you want to watch the final season without knowing how it all turns out. Not that we know either, but a very, very interesting nugget of information has been uncovered.
So, if you want to know what it is, read on. If you don't, read Fraser's Phrases. It's a good one today.
We'll just leave a discreet gap here, while you make up your minds.
Still thinking? OK.
Don't worry, we'll be right here waiting.
Whenever you're ready.
Take your time.
There's no rush.
As soon as you're sure, we'll tell you.
Just say the word.
OK?
Sure?
OK.
Matthew MacFadyen will be appearing in the final episode. His character Tom Quinn was last seen setting up a private security firm. But he'll be back, in some capacity, doing something, which will round off the series nicely.
A source told the Mirror: "It's incredibly exciting to have Matthew back again, even if he's only seen fleetingly. It will bring back all the memories of Tom and what the character endured in those first few series. Viewers will be dying to know why he's back, but they'll have to wait til Sunday to find out."
Of course, if you've seen Spooks, you'll know that probably means everyone is going to die. But still…
Read More
Filed Under: