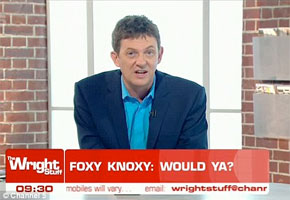 British TV presenter Matthew Wright – a kind of cut-price Piers Morgan (he's a fellow former tabloid writer, and every bit as oily) – has defended his decision to start a debate about Amanda Knox on his Channel 5 mid-morning discussion show The Wright Stuff.
The topic of discussion wasn't whether she is innocent of killing Meredith Kercher or not, or whether the press coverage has been overly sensational. No, Matthew, with his eye on the big picture, wanted to know the answer to this question: "If you were a guy who'd met her in a bar and she invited you back to hers, would you go? I'm being quite serious. Or would something in your brain make you think twice?"
I'll just give you a moment to let that sink in.
The question, and the ensuing discussion has, as you'd imagine, caused something of a kerfuffle across all the media, not least because the discussion was taking place while the Kercher family were making their statements to the press, in the wake of Amanda's release.
Matthew told Yahoo: "For the last four years, the world has been more than happy to refer to a woman, then presumed to be a killer, as 'Foxy Knoxy' – something I find appalling.
"I thought it would be interesting to find out if mud sticks, or whether an innocent young woman could now go out and behave in a perfectly normal way. The real disgrace is the Foxy Knoxy epithet."
An epithet which was plastered all over the screen during the debate, naturally.
Here are some nicer things that British people are doing today:
• Jason Statham may well appear in the next Fast and Furious film. (via Independent)
• Jeremy Clarkson has been hailed as "a god" in India, amid scenes which are pretty close to Beatlemania. (via the Guardian)
• The Home Secretary, Theresa May, probably thought she was onto a winner yesterday when she ended her speech at the Conservative Party Conference with a lively snippet of "Rocks" by Primal Scream. It sounds like this, if you've not heard it:
Trouble is, as is often the case when politicians dabble in the music world, the band themselves are FAR from happy to hear their song has been used in this way, especially as they're all left-wingers. In a furious statement to Q Magazine, they said: "How inappropriate. Didn't they research the political history of our band? Hasn't she listened to the words? Does she even know what getting your rocks off means? No. She is a Tory; how could she?"
• Today's Cheryl Cole story: she's in talks with Channel 4, discusing a presenter job on a TV show about fashion. (via the Sun)
• Queen's Brian May is a big Lady Gaga fan, and was glad of the chance to work with her, if only because it got him out of the house. (via Gigwise)
• Speaking of royalty (ish), Stephen Frears, who directed The Queen, is going to be awarded the European Film Academy's Lifetime Achievement Award. Quite right too! (via the Star)
• Should you ever be in the happy position of taking Emma Watson out for a drink, do not be fooled by her goody-two-shoes image. She's no lightweight, as she told Elle magazine: "My dad's great hobby is wine, so it's always been part of our family life. For someone so little I don't get drunk very easily. It's quite a good talent, I'm not challenging anyone to a competition though." (via Musicrooms)
And finally, a tip of the hat to Mr Bert Jansch, the astonishing folk guitarist and inspiration for artists as diverse as Paul Simon, Johnny Marr, Jimmy Page, Graham Coxon, and Pete Doherty, who has died after a battle with lung cancer. (via NME)
Here's Bert doing his thing on "Black Waterside," a song Led Zeppelin fans might find strangely familiar:
Read More
Filed Under: