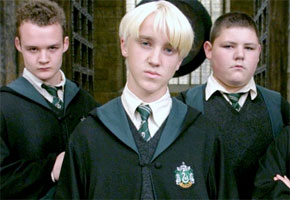 The temptation to make some crack about evil Slytherins is almost overwhelming, but we'll push on past it to bring you the unhappy tale of Jamie Waylett, who played Draco Malfoy's henchman Crabbe in the Harry Potter films.
It seems, whether by accident or design, Jamie managed to get caught up in the London riots, and was arrested under the Criminal Damages Act, in possession of a petrol bomb that the charge sheet said was "in your custody or under your control."
Jamie has also been accused of growing 15 cannabis plants, in the bedroom of his family's home in Kilburn, North London, and charged with handling stolen goods. When arrested, he had a bottle of champagne with him which had already been looted.
He appeared in court on September 29th, and has been released on bail, pending a full court hearing next month. The maximum penalty for the cannabis plants alone is 14 years. (via the Sun)
Let's move on to something happier, shall we?
Here's a little treat for anyone stuck with a Blackberry that doesn't work at the moment. It's veteran comedians Ronnie Corbett and Harry Enfield, taken from Ronnie's sketch show The One Ronnie, which aired last Christmas. Stick with it, the last gag is a doozy:
• Fellow comedic legend Sir Bruce Forsyth has been knighted by the Queen, partly for his charity work, partly for a 70-year career in showbusiness. He's still working too, presenting Strictly Come Dancing every Saturday night on BBC1. (via Huffington Post)
• Nicky Wire, bass player with the Manic Street Preachers and astonishing fightstarter, claims he could be of some use as a peacemaker in both the Libertines and Guns 'n' Roses camps. Quite where he got this idea from is beyond me, but he reckons he could keep both bands going in their original lineups, using just his charm and force of personality. The latter being a quality that both bands could probably do with less of, truth be told. (via NME)
• Let's play a little game. This is Noel Gallagher talking to BBC Radio 4 about someone in the British music business. Can you guess who?
"This is going to sound crazy but if the music business was inhabited by more people like him it would be in a better place because he's brutally honest. He's not pretending to be anything he's not. He's not claiming he's going home and listening to The White Album.
"If everyone in the music business were brutally honest about what their intentions were then you could sort things out, but it's all smoke and mirrors."
Yep, it was Simon Cowell. Was it the two uses of "brutally honest" that gave it away? (via Stop Crying Your Heart Out)
• Speaking of whom, it seems Simon and Cheryl Cole are back on affable terms now. (via The Sun)
• Sarah Harding from Girls Aloud has gone into rehab, in order to treat her depression, and alcohol abuse. (via Contactmusic)
• And finally, here's Tracey Emin, enfant terrible of the '90s Brit Art lot, and seller of unmade beds to art dealers. She's on Who Do You Think You Are this week, and as you can see, she's desperately trying to cling on to the idea that her astonishing originality and talent came with her at birth. This will definitely not go wrong. Not one bit.
Read More
Filed Under: