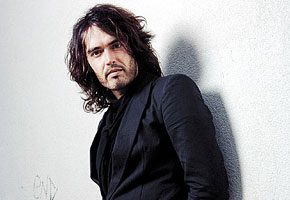 It's not easy being Russell Brand. Oh sure, everyone loves you and your strange talkyspeak and your Utopian exhortations, but you're also a recovering drug addict with several arrests under your belt, just the kind of guy that customs officials tend to have a problem with. That you're also a black-clad beanpole, topped with a grinning skull and a tatty ravens-wing hairdo draws unwelcome attention too.
Recently he was asked to leave Japan, after trying to fly in and visit his wife Katy Perry, while she was there on tour. He also had to miss an appearance on David Letterman's show in 2008, for similar reasons.
And now Canada – tolerant, calm Canada – has joined that list. Border officials refused to let Russell pass, even though he was on the way to a weekend gig in front of 5,000 people in Orillia, Ontario.
He tweeted from the airport: "HELP! I'm gonna be late for Casino Rama show unless someone can force Canadian customs officials to let us land in Orillia."
But it was all to no avail, and Russell later tweeted an apology, mixed with a plea for higher states of consciousness: "I'm sorry. I can't enter Canada. We must abolish the borders between our nations AND our minds." (via Chortle)
Or, as is probably more likely, we must ask whether customs will let us into a country before we leave the house.
Here's a selection of items from the day which should entertain an easily distracted mind:
• Some people would like nothing more than the chance to snuggle down in a darkened cinema next to Robert Pattinson and watch the Twilight movies, but his own girlfriend, Kristen Stewart, would prefer to do it with Taylor Lautner. (via Entertainmentwise)
• A new, annual lecture is to be given in the name of former Radio 1 DJ and music sage John Peel. Who guitarist Pete Townshend will be the first to deliver a John Peel lecture, on the future of the music business, at the Radio Academy Radio Festival in Manchester, later this month. (via Belfast Telegraph)
• Sir Paul McCartney and Ringo Starr (and Yoko Ono) attended the London premiere of the Martin Scorsese film Living In The Material World, about the life of their Beatlemate George Harrison. (via XFM)
• Remember the story of the Northern Irish farmer who objected to Rihanna baring all in his field for a video shoot? Apparently he's now getting hate mail from Rihanna fans. Triffic. (via Digital Spy)
• Cheryl Cole is using puns and wordplay to make points about gender politics, the world is upside down! (via Now)
• Stephen Fry is set to play a character with the magnificent name of Malifax Skulkingworm in a new period comedy called The Bleak Old Shop of Stuff (yep, it's Dickensian), alongside comedians David Mitchell and Robert Webb, Katherine Parkinson and Celia Imrie. Fingers crossed for a new Blackadder. (via TV Scoop)
• The cast is finally off Jessie J's injured ankle, and it's bad news. She'll always have arthritis in that joint, and it means she can never wear high heels again. She's upbeat and philosophical about it, but it's clearly a blow. She did give one interesting quote though: 'They gave me loads of painkillers at the hospital, but I didn't take them after that. I didn't want to become addicted. What sort of role model would I be if I became addicted?"
Which begs the question: Jessie J is a role model? Since when, and for whom? (via Press Puppy)
• And finally, here's a treat for Steve Coogan fans.  His greatest creation, failed TV presenter Alan Partridge appeared on Jonathan Ross's chat show over the weekend. It's really something:
http://www.youtube.com/watch?v=-736wRQeauA
Read More
Filed Under: