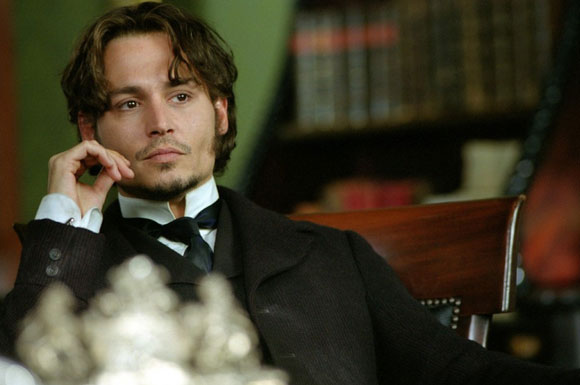 The notorious serial killer Jack the Ripper brought a reign of carnage to the Whitechapel neighborhood of London in the late 1880s, terrifying the city and capturing the attention of people all over the globe. BBC America's new crime drama, Whitechapel — premiering Wednesday, October 26th at 10/9c — Detective Joseph Chandler (Rupert Penry-Jones) investigates what appear to be modern-day copycat crimes inspired by those century-old murders.
In lieu of the crimes being solved, Hollywood has repeatedly sought to tell the tale of the Ripper, with fictionalized accounts going back as early as the silent era. Here are four films (and one TV miniseries) that took on the sordid story:
The Lodger: A Story of the London Fog
Of course Alfred Hitchcock did a Jack the Ripper movie. (The British filmmaker and the story of the Ripper go together like foie gras and apple compote.) This 1927 silent thriller, the first adaptation of Marie Belloc Lowndes's novel, starred Welsh actor Ivor Novello as the titular lodger wrongly suspected of committing Ripper-like murders. It was Hitchcock's first commercial success.
A Study in Terror
This 1965 film put Sherlock Holmes (John Neville) and Dr. Watson (Donald Houston) on the tail of Jack the Ripper. And in this one, our crack crime solvers actually determine the identity of the killer.
http://www.youtube.com/watch?v=ZGVlhyImLwE
The Ruling Class
Not a Ripper film per se, but a very dark comedy (from 1972) starring the sublime Peter O'Toole as a mentally disturbed earl who believes he is Jack the Ripper. Here's Mr. O'Toole putting on an acting clinic, and, at around 3:43, letting out a primal scream that will absolutely liquefy your bowels:
Jack the Ripper
This Golden Globe-winning 1988 miniseries starred Michael Caine as Detective Abberline, the real-life investigator into the Ripper murders. The trailer, which is truly camptastic in a great way, features Caine doing his best Michael Caine, Jane Seymour purring flirtatiously, and a creepy Armand Assante scowling like a young Peter Lorre.
From Hell
Based on Alan Moore and Eddie Campbell's graphic novel about the Ripper case, this 2001 film starred Johnny Depp as the opium-addicted Detective Abberline and took the Hughes brothers off the streets of South Central (where they directed their 1993 hit Menace II Society) to the equally alarming "ghettos" of late 19th century London. Roger Ebert wrote, in his three-star review, "Despite its murders, it's not a slasher film. What it is, I think, is a Guignol about a cross-section of a thoroughly rotten society, corrupted from the top down. The Ripper murders cut through layers of social class designed to insulate the sinners from the results of their sins."
What is your favorite Jack the Ripper movie?
Read More
Filed Under: