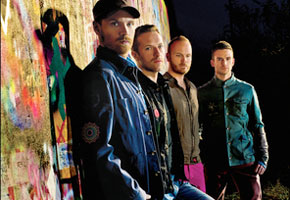 In exactly one week from now, Coldplay will be playing at (for them) tiny college gig at the University of East Anglia, Norwich, England. It's a 1,200 seat venue and a good chance for the band to warm up a bit before they do their next world tour.
So you can imagine that demand for tickets has been pretty high. So high in fact, that some fans elected to camp out in the street, next to the box office, to be sure and get to go. And when I say some fans, I mean a couple of hundred, maybe more.
Of course, it's freezing on the streets of Norwich in late October. So when the band found out about all the people desperately clinging to the pavement in order to get a chance to see them play stuff off their new album Mylo Xyloto, they did the decent thing and ordered in a few pizzas. And when I say a few, of course I mean hundreds.
Di Anderson, the central support and marketing manager for the Union of UEA Students, told UTV: "Coldplay contacted us via the promoter and said that the band were so delighted with the loyalty of their fans that they would like to reward them with pizza for waiting so patiently in the cold."
Clearly they're in good moods at the moment. They've just released the video for the song "Paradise," which is a fierce allegory about the treatment of animals in zoos (probably), told via the medium of dressing a grown man in an elephant suit, having him escape and run away to the plains of Africa, where he eventually dances about like one of the Banana Splits. It's astonishingly cute:
Read More
Filed Under: