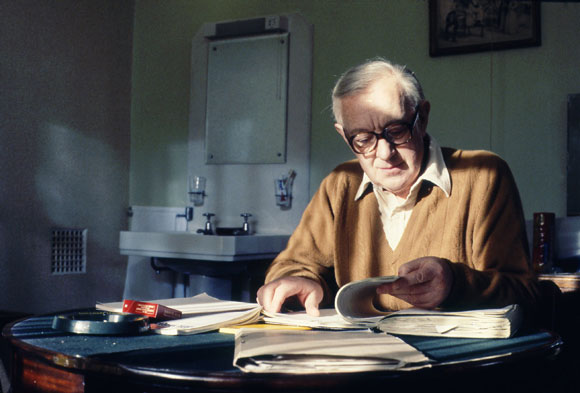 Remember when you were asked to compare and contrast two books for an English exam back in high school or college? Well, now you can do that in real life, if only for your own edification, with two versions of Tinker, Tailor, Sailor, Spy.
The eagerly anticipated new movie based on the 1974 Cold War spy novel by John le Carré opens in U.S. theaters on December 9. Starring a Who's Who of big name British actors (Gary Oldman, Colin Firth, Tom Hardy, Benedict Cumberbatch, and more), the film opened last month in the UK to rapturous reviews and robust box office.
"You'll feel your own synapses working at full tilt as you watch this intelligent, bracing, consummately achieved entertainment," wrote movie critic Jonathan Romney in The Independent.
Those who want to get a jump on the movie can check out the BBC's fondly remembered, 1979 mini-series of Tinker, Tailor, Soldier, Spy. This seven-part version starred Alec Guinness in the lead role as bookish British Secret Service agent George Smiley (Oldman plays Smiley in the movie). It is being re-released on DVD next Tuesday (October 25) as a three-disc set.
In addition to Guinness, such stars as Ian Richardson, Patrick Stewart, and Michael Jayston (of Doctor Who, circa 1986) have major roles.
The miniseries, too, was greeted with critical hosannas when it first aired — PBS showed it stateside in 1980 — and has held up over time. "The BBC's 1979 adaptation of John le Carré's thriller is still unmatched in its evocation of the chilly, cynical cold war era," Toby Manning wrote earlier this year in The Guardian.
BBC produced a follow-up, Smiley's People, also based on a le Carré novel and again starring Guinness, in 1981.
There have been reports, but no official announcement, that a similar sequel to the latest film version of Tinker, Tailor may be in the works. When he was publicizing the movie for its British opening, Oldman said that he would jump at the chance to play George Smiley again, but only if Tomas Alfredson (Let the Right One In), the Swedish director of Tinker, Tailor, signed on again for the follow-up.
—————————
Have you already seen the miniseries? What do you think… can the film version compare?
—————————
Trailer for new movie version:
Alec Guinness and Patrick Stewart in 1979 Tinker, Tailor miniseries:
http://www.youtube.com/watch?v=zpFjjCiVpSs
Interview with Gary Oldman on the BBC's The One Show, in which he calls Benedict Cumberbatch "a good lad":
Interview with Colin Firth on SkyNews:
Benedict Cumberbatch in red carpet interview on whether he has ever spied in real life:
http://www.youtube.com/watch?v=3foqWs-FDy0
Read More
Filed Under: