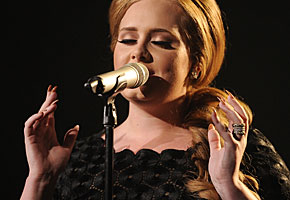 Social media is a lot of things; engaging, fun, a source of perpetual gossip; but it is not to be relied upon as a source of factual information, unless each tweet comes with a link to a respected news source.
And it is particularly good at creating a frantic rush around one particular emotive nugget of information: the death of a celebrity, the result of a talent competition, the final narrative twist on a much loved TV drama. Yesterday that nugget was the possibility that Adele, who is undergoing surgical treatment for nodules on her throat, might have cancer, brought on by smoking.
You can see the plausibility right away. She's always said how much she enjoys smoking, and she's had a lot of problems with her throat recently, culminating in the cancellation of all of her concerts for the rest of the year. Add those two situations together and suddenly she's got throat cancer.
The strange thing is, we've all known these things for a few weeks now. Why yesterday should have been the day everything kicked off – at one point the hashtag #prayforAdele was trending worldwide – is a mystery. Yesterday morning there were four tweets from people saying they'd heard she had throat cancer, but not citing a source for their claims, and then, an hour later, there were thousands.
The concern for her wellbeing is understandable, of course, but the timing of the panic seems odd.
I'd just like to state, unambiguously, that neither I nor anyone at Anglophenia has any idea whether Adele has cancer, or is simply undergoing the operation she openly admitted she needed at the beginning of October. Her website has made no statement regarding yesterday's kerfuffle, which could be taken as an attempt to hide the truth, or stalling for time before a full statement can be made. But it could just as easily be a deliberate ploy, a refusal to dignify a lie with an official comment.
And, crucially, no one on Twitter knows whether Adele has cancer either. And even if they're right, it's none of our business until that official statement comes through. That's the point at which it's fine to go hog wild on social media sites, until then, it's time to shush.
After all, there are enough people who would love to be facing just a rumor of cancer. Let's not go mad.
Read More
Filed Under: