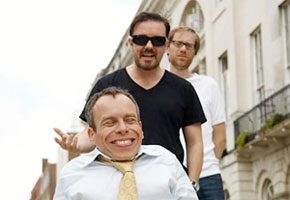 Well if nothing else, Ricky Gervais and Stephen Merchant's latest comedy vehicle Life's Too Short cannot be said to have arrived without sufficient fanfare. They've been making a few of these mock trailers, in which people get a glimpse of what Warwick Davies, the actor on whom the entire series rests, can do.
Naturally Ricky and Stephen get to step in front of the camera too, to further underline that even though Ricky's not the star, it's still very much their thing, a continuation of the work they started with The Office and Extras.
Here's the latest trailer:
NOTE: The "Charlie" gag is to do with Richard Bacon, the guy on the right at the beginning. He was sacked in 1998 as a presenter of the children's show Blue Peter, when it was revealed in the tabloid press that he had taken cocaine at a party.
And this, slightly sweary one, is from a couple of weeks ago:
Should Ricky Gervais perhaps just get on with MAKING the show? Tell us here:
Read More
Filed Under: