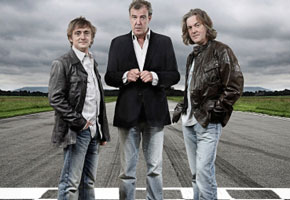 • Power! Top Gear won Best Factual Entertainment Show at Britain's TV Choice awards earlier this week. "Like the most faithful old motor, Top Gear just keeps on going," TV Choice Magazine wrote on their site. "Clearly petrolheads across the country haven't tired of watching stars race around in reasonably priced cars…" No doubt. In the Factual category, Top Gear defeated Big Fat Gypsy Weddings, Embarrassing Bodies, and Katie: My Beautiful Friends.
• Ever wonder how Top Gear gets made? Watch Richard Hammond's behind-the-scenes video about the show's morning meeting. Okay, so it doesn't actually answer any questions about the show's production, but it's very amusing.
http://www.youtube.com/watch?v=G1pVH7osRAw
• There's little more thrilling in the world than seeing things explode (with all living beings at a safe distance, of course). Jeremy Clarkson, Richard Hammond, and James May test their skills at demolition in the next episode of Top Gear, premiering September 19 at 9/8c. Will it be a proper blast, or is this a case of mutually assured destruction?
Here's another clip, featuring James May crashing into a house with a tank and Jeremy doing the "long walk" in a bomb suit, Hurt Locker-style:
• Top Gear Australia will be leaving the air, co-host Steve Pizzati confirmed on his Twitter account. "It's true – as of next week, TGA will be on at the special time of not at all," he tweeted. "Sorry to the open-minded people that gave it a go and enjoyed!" More on this from the Sydney Morning Herald.
Read More
Filed Under: