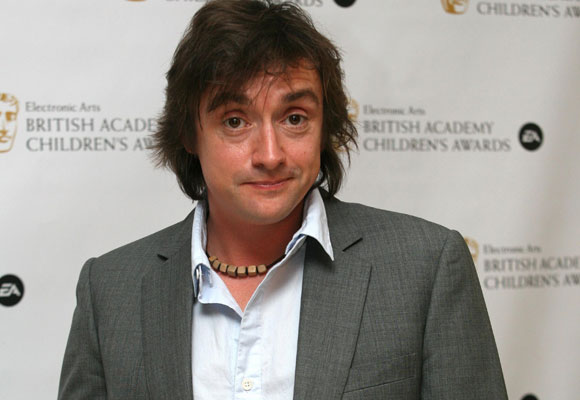 • When a raging bull attacked his father on the family farm, 11-year-old Tom Phillips jumped into a nearby tractor — which he'd never operated before — and drove the animal away.
To recognize the young man's courage, Top Gear co-host Richard Hammond presented him with a Pride of Britain award. As The Mirror reports, Hammond delivered the honor in dramatic fashion worthy of a Top Gear stunt, piloting a helicopter to the Phillips farm.
Tom told The Mirror: "I was out on my bike in the yard and when I turned around there was a helicopter in the field. I went out there and found Richard who said 'Are you Tom? I'm Richard and you've won a Pride of Britain Award'."
"I couldn't believe it was real – I always watch Top Gear."
And Hammond further delighted the kid by taking him for a ride — in a £170,000 ($266,543), 200 mph McLaren supercar. Photos at link. That Hamster is a real mensch, isn't he?
• What's like to take a cab ride with The Stig? Watch MSN UK's Dan Trent take a rollicking trip in the Taxi of Terror and emerge from the experience looking utterly haunted:
• A 1000 meter racing challenge on an airport runway? Sounds like something straight out of Top Gear. Well, Adam Drake, a photographer from Sydney, Australia, was inspired by the show and organized such at event at a rural airport Down Under, The Daily Advertiser reports.
• If you think the Top Gear boys get rowdy and smash up hotel rooms between Top Gear Live shows, James May has put paid to that idea in an interview with Britain's Absolute Radio. "We're all quite old now and we don't sleep very well. Jeremy [Clarkson] has problems sleeping as well apparently. We sort of go back to our Green Room and have a cup of tea." Video of the quite amusing chat below. (found via Autoblog)
• No one quite knows the story behind the "lost" episodes of Season Four. Some say they were deliberately kept from America by the British, who feared that they would foment a second American revolution. Others say they contained footage so disturbing that anyone who saw the shows would never eat asparagus again. Still others said the tapes were misplaced and then forgotten, or vice versa.
The point is, however, that season four is here now, for your viewing pleasure — and risk. To prepare, you might want to see if you can handle this trailer:
Watch the first two lost episodes of season four, back-to-back, when they premiere on Monday, October 3, 8/7c.
• Our friends over at the Top Gear Tumblr looked at garages this week, specifically focusing on luxury garages. Let's just suffice it to say that any one of the garages is larger than the apartments we live in… combined. But it's not just about size. These garages are cleaner, more well-equipped, and – it goes without saying – more expensive than the places we live in. Honestly, we'd never use these garages because we'd be scared of getting them dirty.
Among the things you'll find on Top Gear's Tumblr, are links to the world's most beautiful garages and an article about a do-it-yourself Ikea dream garage.
They've also got a link to an article from the Los Angeles Times about a guy who parks his Ferrari in his living room. He built a bridge that linked his car's living room spot – on the third floor, no less – to the street. But neighbors didn't take very kindly to that.
Read More
Filed Under: