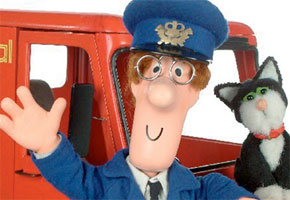 So, we're all fairly unanimous on the appeal of the British actors David Tennant, Rupert Grint, Jim Broadbent and Stephen Mangan, right? And news of a hot new movie which features all four of them is going to be fairly exciting, isn't it?
Well what if that new movie is a big screen, 3D version of the animated adventures of a much-loved British children's character, Postman Pat? What then?
Second thoughts, don't answer that.
Stephen, who will be playing the lead in Postman Pat: The Movie – You Know You're The One, told BBC News he was thrilled to be offered such an iconic role: "However, when I excitedly told my three-year-old son that I was going to be Postman Pat, he said, 'No you're not, dad, don't be silly,'"
Rupert added: "Postman Pat is one of those British symbols, I suppose – you are totally familiar with him and his cat Jess, even if you have never watched the series. How exciting to be part of the Postman Pat heritage."
Here are some other things you might wish to be made aware of on this day in, well, right now:
• Cheryl Cole was surprised to find an effigy of Simon Cowell during her visit to British troops in Afghanistan. She was even more surprised when they invited her to blow it up. She told the Mirror: "His head needed to be a lot bigger and the trousers could have done with being a lot higher."
She did blow it up though.
• Adele used the occasion of her first comeback gig on Wednesday night to pay tribute to Amy Winehouse, who would've been celebrating her 28th birthday. She dedicated "Make You Feel My Love" to her, and naturally, unleashed a wave of public sobbing.(via RTE)
• Coldplay have been voted the best festival headliners of 2011 by listeners to BBC Radio 6 Music. The reunited Pulp came fourth and Beyonce came seventh. (via eFestivals)
• PJ Harvey says the UK riots were just a question of time, and that they were an uprising, after a period of suppression and censorship. (via NME)
• Christina Hendricks is a massive fan of British rockers Kasabian, or at least, that's what she told their singer Tom Meighan when he went over at their New York rooftop gig, to rave about Mad Men at her.(via Gigwise)
• Congratulations are due to Una Healy, of British girl band the Saturdays. She's expecting a baby. (via Metro)
• And finally, as it's a Friday, I'm just going to go ahead and paste this story about Ricky Gervais here. Chortle wrote it better than I could in any case:
Ricky Gervais flew over to the States this week to appear on Late Night With Jimmy Fallon. Bear Grylls was a fellow guest, and on the same plane. Gervais had a doze on the flight, and when he woke up there was a note on his pillow, reading: 'Day one of assassin school… always sleep with one eye open. Bear.' Gervais looked over and saw that the survival expert was now asleep and left him a note in return: 'Day one of public school… never sleep with your mouth open. Ricky.'
Read More