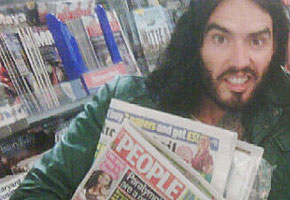 Russell Brand appears to be the target of another attempted tabloid bashing, after on-stage comments he made about the Olympics were seized upon as proof of some kind of disability prejudice.
While performing in London, Russell reportedly said: "I don't give a f**k about the Olympics. It's boring Blue Peter sport and a waste of taxpayers' money. At least the Paralympics have some kind of novelty value or something."
Now, to the untrained eye, that's a line which is based around a fundamental indifference for the big event, with a little bone thrown to Paralympians because the Paralympics are at least a very visible platform of achievement for people whose achievements are often overshadowed by other things.
However, two newspapers, the Sunday People and the Mail On Sunday, have chosen to react as if it's a very specific dig at Paralympians themselves.
So much so that the People had outraged quotes ready to go from Paralympian Natasha Baker, who will represent Britain in the dressage event: "We've suffered life-threatening illnesses. It's both ­patronising and upsetting for Russell Brand to describe us as a ­novelty."
Neil Coyle from the Disability Alliance added: "It's a shame a comedian of his stature should lower himself to have a pop at Paralympians. It's almost like Russell Brand has gone back to the eighties when that kind of humor was acceptable. It is really scraping the bottom of the barrel."
On his Twitter feed, Russell posted a picture of himself holding the two papers (see above), with the accompanying comment: "Daily Mail/People stop being silly."
Which will definitely sort that whole thing out.
Here's what else the world of today has to offer:
• Ricky Gervais has brought the wrath of Van Halen down upon his head for trying to include some footage of Karl Pilkington singing their song "Jump" in a karaoke competition as part of the new series of An Idiot Abroad. He told the Sun: "Van Halen are trying to put a stop on it, because it is that bad. But Sky have got a blanket agreement so we can put it out in England. But we can't put it out in America or on the DVD."
• If you're a fan of Ricky's former management protoges, the band Suede (or the London Suede, as I think they ended up being in America), you might be interested to know how close the world came to them never having existed at all. Two feet, according to singer Brett Anderson.
When asked by the Guardian to name the time he was closest to death, he said: "During the great storm of 1987, I was staying in the spare room at my ex-girlfriend's parents' house when a huge oak tree crashed through the roof and stopped 2ft from my head. Luckily, I had closed the door which supported the trunk just enough to stop it from crushing my skull like a walnut."
• InStyle magazine have revealed their Hot 100 Power list, of celebrities aged 25 and under who are big news now and will possibly continue to be so in 1o years' time. Their winner is Harper Beckham, who is two months old. (via Heat)
• In contrast to the news of a hot new Kate Bush album comes a slightly lower-fi proposition, a new album by the Fall, entitled "Ersatz G.B." which, according to the band, is as stroppy and cantankerous as their '80s peak "Dragnet."(via the Quietus)
• Cheryl Cole now claims she's NOT going back to her ex-husband Ashley, according to the same tabloids who said she was in the first place. (via Musicrooms)
• John Barrowman's been talking to Femalefirst about his new album. Apparently his cover of Rod Stewart's "Tonight's The Night" is nothing to do with hosting a show with the same name, on which he did sing that song. It's to do with Glasgow. Huh?
• Sir Ian McKellen has bought a 300-year-old East London pub called The Grapes which actually appears in Our Mutual Friend by Charles Dickens. He lives nearby. Don't think he'll be pulling pints himself, mind. (via Contactmusic)
• And, to round things off, how about a brand new song from Coldplay? It's called "Paradise," and they've announced and released it on the same day. Somehow this has not extended to finishing the video too, but as Stephen Wright used to say, you can't have everything: where would you keep it?
Para-para-paradise or pile o'-pile o'-pile o' crap? Tell us here:
Read More
Filed Under: