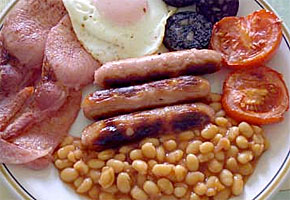 I'm not sure if this constitutes news to a society that has already given the world that bacon, peanut butter and grape jelly sandwich Elvis used to eat, but if you're a fan of the great British fry-up, and you always wondered why we serve such puny portions, well we might have found the perfect restaurant for you.
It's called the Hungry Hossee Cafe in Corby, Northamptonshire, and one of the house specialities is a meal called The Big One. It's £12 per portion, or free to anyone who can finish it all off.
And here's what you get: three sausages, three fried eggs, three potato waffles, three potato scones, three burgers, three portions of beans, three rashers of bacon, three hash browns, three slices of black pudding, three portions of mushrooms, three square sausages, three slices of fried bread, three rounds of bread and butter, three pieces of toast.
The entire platter weighs 6.6lbs and contains 7,500 calories. Many have tried to eat it, and many have failed. But this week, local man Steven Magee has become the first person to eat the lot. It may have taken him an hour and twenty minutes, but he did it.
He told the Mirror: "I don't normally eat big meals, I just like a challenge. I was determined to eat everything on the plate."
Trouble is, no one seems to know quite what the etiquette is in a situation like this. Do you say "well done"? Offer a wafer-thin mint? Place a medal on his distended stomach?
Here are some other, less worrying things which are also going on at the moment:
• Adele, Arctic Monkeys and Jessie J are all front-runners in the nominations for the Q magazine awards. The ceremony will take place on October 24.
• Tomas Alfredson, the director of Tinker, Tailor, Soldier, Spy has been enthusing about his perfect cast, which includes Gary Oldman, Colin Firth and Benedict Cumberbatch. At the film's premiere last night, he said: "they're so brilliant and intelligent and wonderful to work with. We were quite lucky really. I mean their schedules allowed them to be in the same room at the same time and then they wanted to participate. What can I say, they're all wonderful." (via Contactmusic)
• Comedienne Miranda Hart has written a book to help teenagers with all of the awkwardness of growing up. It's likely to be very good. (via the Telegraph)
• It appears that the delay on Plan B's next album is now due to his record label, not him working on all those movies. They don't like it because it's too 'dark,' apparently. (via Musicrooms)
• Slash, the guitarist from Guns 'n' Roses and Velvet Revolver, has announced that he's releasing a live album recorded in the town of his birth, Stoke. It's entitled "Made In Stoke 27/7/11," and you'll notice he uses the British date there. That's because he's OURS. (via Classic Rock)
• Late-breaking Beatles news! It seems the loveable moptops stipulated that when they played at the Cow Palace in Daly City in 1965, they would not do so in front of a segregated audience. Their contracts are up for sale to collectors, y'see. (via Gigwise)
• And finally, let's all give a congratulatory "eeeeyyyyy" to Henry Winkler, who is going to receive an honorary OBE for his services to dyslexic children. He's been touring UK schools for two years giving talks about his own battle with the condition. (via Radio Times)
Read More
Filed Under: