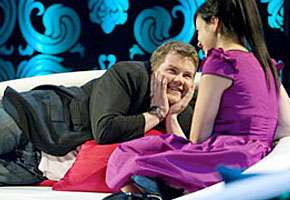 It's horrible being infatuated, isn't it? Trying to cross a cavernous divide using only hope and misread clues as a bridge, and all the time wondering whether it's going to be worth it, whether you'll get all the way over and then fall into the abyss.
It must be ten times harder to go through this process in public, and to have your heart set on a pop star. So hats off to James Corden for being brave enough to detail what happened when he realised he was falling for Lily Allen, and how it all came unstuck before it even began.
In his autobiography, May I Have Your Attention, Please? (extracts from which are in today's Sun), James reveals that his crush developed pretty much as soon as they met, at a film premiere.
He wrote: "I made it my aim to make Lily mine. I guess I went out with Lily four or five times in total after that – and not once was it a proper date. It always seemed to involve other people and not just the two of us.
"I guess we were friends but, for my part, I definitely wanted more than that. The last time I went to her place was when the reality dawned on me. It was Lily, me and a couple of her friends chatting and drinking. Eventually, Lily let out a yawn, looked at me and said, 'I'm going to bed now, what about you?'
"My heart stopped. This was it. After all this time, all the false dawns. So she walked up the stairs with me padding behind, my mouth dry, my stomach churning, my hands sweating – I was all kinds of sexy. At the landing there was a bedroom on our right and Lily pushed open the door. My heart was pounding. Lily looked deep into my eyes. 'You can sleep in there,' she said, pointing to the room opposite, then pecked me on the cheek. 'Night, night.'"
Ouch.
And of course, he still had to stay the night: "Never have I felt such a douchebag. Who was I trying to kid? I remember lying in bed and realising how badly I'd misread the signs. There was no me and Lily, it was all in my mind.
"I'm glad that's all it was. I like Lily very much and know if push came to shove that night, I'd have been awful in bed. I would've been so nervous that nothing – and I do mean nothing – would've happened. So I want to thank Lily for sparing a lovesick fool that kind of embarrassment."
Here's James seizing the moment in a very public way, on Lily's chat show in 2008:
http://www.youtube.com/watch?v=DCMrQ3sEdtU
Aw.
Here's what else is going on today, while I dab my eyes with a tissue:
• It turns out Cheryl Cole wasn't rubbish on the US X Factor after all, not according to the critics. They weren't mad on Nicole Scherzinger, however.  (via BBC News)
• Pink Floyd will once again fly a pig from one of the chimneys at Battersea Power Station, in order to launch their latest box set. (via Gigwise)
• Dame Vivienne Westwood and David Attenborough are urging fans and friends alike to get involved in the Cool Earth campaign to save the rainforest.
• Helen Mirren says she feels lucky to have had the chance to work with Al Pacino, on the forthcoming Phil Spector biopic which is being made for HBO. (via Digital Spy)
• Clive Owen still gets homesick for London, especially when he's bored. (via Musicrooms)
• The Manic Street Preachers are going to play all of their singles in order, to show the kids what it was like before guitar bands stopped having hit singles. (via Musicrooms)
• And finally…let's go out the way we came in, with a bit of failed romance.
Here's Emma Watson and Rupert Grint, giggling their way through the big kiss scene in the last Harry Potter film.
Yeah, that's a lot of focus and determination from Ms Watson there alright…
Read More
Filed Under: