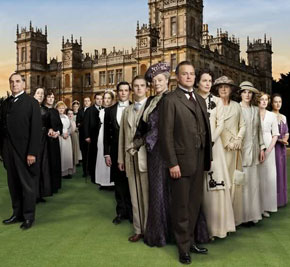 It was always a high-risk strategy, putting two of Britain's best drama series up against each other on a Sunday night, especially given the plethora of means people can use to catch up with whichever one they didn't watch first, after the event, and subsequently skew the viewing figures.
Last night, Downton Abbey and Spooks went nose-to-nose at the coveted Sunday night 9pm slot, the former on ITV and the latter on BBC1, and while it pains us (and BBC News) to admit this, it seems Spooks has been taken downtown by, well, Downton.
Overnight figures suggest that Spooks, which is usually shown on a week night, and averages around 6 million viewers, has suffered a slight dip from the move, having secured 4.6 million viewers last night, before factoring figures from iPlayer and other recording devices. Downton Abbey coasted ahead on more than twice that amount, as some 9.3 million people tuned in. Having said that,  the show's peak viewing is somewhere around the 10-11 million mark, so clearly it's going to take a bit of time for everyone to adjust to what is effectively a weekly drama-off.
Not that they'll be remotely bothered, after last night's Emmy-lanche.
Here's what else is happening in the right now:
• Speaking of the Emmys, if you're at all horrified on Kate Winslet's behalf by Guy Pearce's inappropriate comments about filming sex scenes for Mildred Pierce, well don't be. She's delighted, as she told the Mirror: "I'm thrilled. I've had a crush on Guy Pearce since I was 11 years old, so just to stand in the same room as him was thrilling for me and to hear him say that was even more of a buzz." (via Entertainmentwise)
• Gary Oldman told the Independent that's he's especially grateful to the Harry Potter and Batman franchises for allowing him to spend more time at him with his kids, in the wake of his divorce: "Sirius and Gordon came at a good time. They allowed me, certainly financially, to really be at home with the kids. You make a Harry Potter movie for six weeks – and some of the time they would travel with me – and then you have maybe seven months at home. It's been wonderful. They are my greatest accomplishment, terrific boys."
• Over the weekend, Rupert Grint celebrated his 23rd birthday with a party in Las Vegas. Metro has an amazing shot of him standing flanked by two girls wearing the kind of Hogwarts uniforms you never really see in the films. Possibly because it's quite cold there. Yeah, that'll be it.
• Chris Martin from Coldplay on why his band have called their new album "Mylo Xyloto": "We wanted it to be called something that doesn't mean anything yet, giving the album to be totally its own thing. The word Coldplay has too many opinions attached to it by people who don't like the music. This is like a fresh start, there's no ramifications. It's a mystery, but we like that. We just invented two words that you couldn't even Google. We tried it and got no results."
Which come as news to the musician Mylo. and the people who invented the language-learning tool MYLO.
• Cheryl Cole's visit to Afghanistan has not gone down well with everyone, particularly fundamentalist cleric Anjem Choudary, who says if she gets shot, she only has herself to blame. (via the Sun)
• Ladies! Simon Cowell is officially (note: not officially) single again! And the Daily Mail has a picture of him looking like one of the heads on Easter Island! Form an orderly queue.
• What's that Ghostbusters quote? Don't cross the streams? Well does Susan Boyle covering Depeche Mode's "Enjoy The Silence" for her new album count? Cos that total protonic reversal thing sounds nasty…
• And finally. here's something for the Blur fans. Alex James, their bass player launching his new range of supermarket-friendly cheeses. There's no point in adding hyperbole to this statement, it simply cannot be improved:
Thoughts? Tell us here:
Read More
Filed Under: