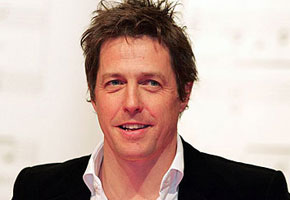 Hugh Grant has already proved himself to be something of a have-a-go hero in the phone-tapping scandal which overwhelmed UK tabloid journalism.
Now he is one of 50 named "core participants" who have been allowed to take a decisive role in the public enquiry into tabloid standards. They will attend hearings, and are allowed to ask questions of witnesses and add their own submissions to the final report.
Also on the list of participants are many prominent politicians, athletes and celebrities, including JK Rowling, soccer player Paul Gascoigne, actress Sienna Miller and the parents of murdered schoolgirl Milly Dowler, whose phone had been illegally hacked into by News of the World journalists.
News International, the British wing of Rupert Murdoch's News Corp, will also have core participant status, as will representitives of all the British newspaper groups.
The first part of the enquiry is expected to report back to Parliament within 12 months. (via Reuters)
Here are some other tidbits of news from today:
• *sigh* A 48-year-old snapshot of Sir Paul McCartney on holiday has been siezed upon by Metro as proof that he's never been cool, because of his fondness for flashing peace signs. WHATEVS, METRO.
• After yesterday's query about the future of the Rolling Stones, Mick Jagger has revealed that one reason why the band won't be appearing at the opening ceremony of the Olympic Games is that no-one has asked them. (via BBC News)
• The latest in a long line of covers of Adele's 'Someone Like You' has come from Bobbi Kristina Brown, daughter of Whitney Houston and Bobby Brown. It's definitely as good as some of the other ones. (via CNN)
• Kenneth Branagh is working with Rob Brydon at the Lyric Theatre in Belfast, Here's a video of them being interviewed together.
• Richard Ayoade, star of Channel 4's The IT Crowd and director of the beautiful film Submarine, has signed up to appear in the new Seth Rogen film Neighborhood Watch. He'll take a part previously earmarked for Chris Tucker, which is kind of odd. (via Best For Film)
• Cheryl Cole is off visiting British troops in Afghanistan. Brilliantly, Sky News has a quote from a source that says: "She thinks it's such a great cause and they deserve all the recognition they get."
Which is ironic because they actually deserve all the recognition that SHE gets, I've have said.
Read More
Filed Under: