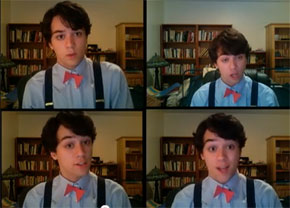 Actor and Whovian Dan Rider, clad in bowtie and suspenders, has posted his own "trockapella" version of the Doctor Who theme song… with lyrics. He's not the first person to attempt such a thing, but he's one of the precious few to boast the express approval of Steven Moffat. On Friday, the Doctor Who scribe tweeted a link to the clip with the words, "Made my day!"
Watch Rider's video – it has a certain "wibbly-wobbly, timey-wimey" charm:
• Doctor Who is known for its mind-bending, intellectually complex plots. Even Matt Smith admits that, yes, sometimes he doesn't really get what's going on at first, but it's fine.
He told the Express: "I do have to read the scripts a couple of times myself. I'd be a really bad actor if I didn't."
Not that he's remotely bothered. He continued: "Isn't it good to raise ­questions? Isn't it brave to have a TV show on at half-past six that challenges audiences, challenges children, that doesn't set out to spoon-feed anyone? I'm so tired of TV that's patronizing and simple."
And Steven Moffat certainly won't be the man who dumbs the show down. He had this to add: "It's a character for whom time travel is a given. I think if something's good, people won't mind if they don't completely understand it.
"Who says we have to understand everything? You either enjoy it or you don't. I didn't understand a word of The West Wing but I loved it all the same."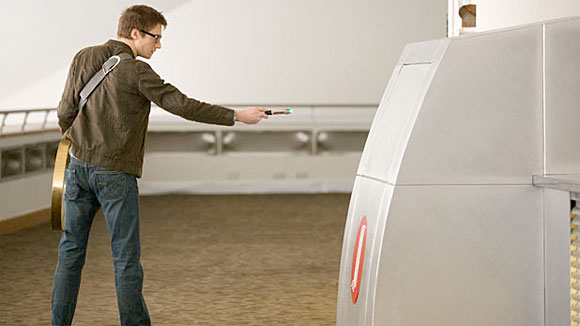 • The trouble with the overlapping story arcs in the current Doctor Who is that you can never be sure, in previewing a new episode, whether any detail is minor or not. That's something SFX has discovered in trying to write about the next episode, "The Girl Who Waited," premiering Saturday, September 10 at 9/8c. If you wish to see how they got on, you can read it here.
• Den of Geek has taken a pretty decent stab at it too.
• And Digital Spy has pictures.
• But we've got the trailer! Do we need to point out that it may contain spoilers? We HAVE? OK.
• The Doctor is truly the "King of the Cons." Doctor Who created a stir earlier this year at San Francisco's WonderCon, and, of course, Matt Smith and Karen Gillan brought out legions of loyal viewers with their debut at July's San Diego Comic-Con.
And just this past Labor Day weekend, over 1,400 fans packed a room at Atlanta's Dragon*Con for the U.S. premiere screening of "Night Terrors," Episode 9 of the new season of Doctor Who. (BBC America partnered with Xfinity to hold the premiere.) We've got photos! How do Whovians hold it down in the Dirty South? See below – and yes, that's the line for entry in Photo No. 3. Apparently, it wrapped around a corner. Photos by Jennifer Stamm.
• Here's the latest Doctor Who Insider, focusing on the scary dolls in this past weekend's "Night Terrors" episode. If you haven't seen it yet, there's an encore presentation that airs Saturday morning (September 10) at 1 ET.
• Matt Smith doesn't think River Song should ever be (or have been) a permanent companion for the Doctor, as it would lessen the impact of her appearances. He told Bang! Showbiz: "I think River's too independent to ever be a full-time companion; I think that's what makes River great as a character. The companions and The Doctor are doing their thing, then whoosh – in comes the hair.
"It just messes The Doctor up and makes him go, 'Oh Christ, River's here', and it frightens him. And weirdly he's going, 'Why the hell am I attracted to her? What's that?' That's the woman who makes him go whoa." (via Gigwise)
• This week's companion piece is about Susan Foreman, the Doctor's Grand-daughter, who was the subject of the very first episode, back in 1963. She's the one who named the TARDIS, and no, she didn't call it "Sexy."
• The men's Anglo Fan Favorites tournament has wrapped, with David Tennant taking an impressive third place behind winner Alan Rickman and runner-up Colin Firth.
Now vote in the women's tournament. Karen Gillan, Alex Kingston, Billie Piper, Freema Agyeman, Catherine Tate, Carey "Sally Sparrow" Mulligan, and Torchwood's Eve Myles are all competing for this year's title, against heavy-hitters such as Emma Watson, Helena Bonham Carter, and Catherine, Duchess of Cambridge.
• We've all imagined the various Doctors as if they were cats, haven't we? No? Well now we don't have to, TARDISCat at the Deviant Art website has drawn it for us.
Seriously, please do check out the cats. They're quite something.
Read More
Filed Under: