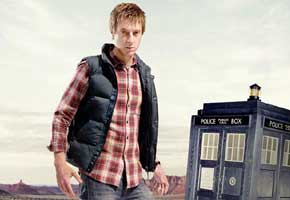 • Arthur Darvill (Rory) has officially invented a Doctor Who script idea that Whovians all over the world will be desperate to see, and it's deceptively simple. All you have to do is get as many of the former companions together as possible, and put them in some kind of post-Doctor rehab: "Maybe it would be some kind of strange self-help group to get over everything with the Doctor. Yes maybe that would be a good episode, just all of the past companions in therapy."
Someone needs to make this happen, and pronto. (via Gigwise)
• Arthur has also been speaking about his character's growth from Amy's gawky hanger-on to fully-fledged TARDIS dweller. He described Rory's relationship with the Doctor like this: "I think they've got, you know, a very, very strong relationship, and as much as Rory can be a bumbling idiot at times, I think he's proved to the Doctor and to everyone else around that, when everything starts kicking off [he] can really step up to the plate and deliver."
• One of Arthur's earliest stage productions was the play Swimming with Sharks, in which he appeared opposite future Who co-star Matt Smith. Watch Darvill face a lifelong fear and literally swim with sharks in the Confidential for "The Girl Who Waited":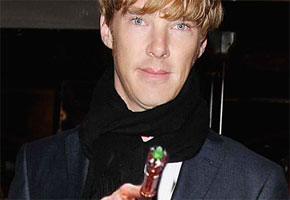 • Would Benedict Cumberbatch ever take up residence in the TARDIS full-time down the line? The Sherlock star answers that tantalizing question in an interview with British host Jonathan Ross: "David Tennant is a friend of mine and he said 'Go up for my old job.' I don't think so. They're huge shoes to fill and I think I'm more similar to David than I am to Matt [Smith]." He notes that Smith's difference from Tennant is a huge reason why he's been so successful as the Doctor.
Cumberbatch also discusses the demands of the gig: "You're on the flask, you're on the school lunchbox, you're on the school bus as [The Doctor] doing promotional tours. I kind of like keeping my work on the set or at the theater, and then going home and trying to be myself."
Here's the full interview with Wossy. The Doctor Who discussion begins about six minutes in:
http://www.youtube.com/watch?v=IrYvn9Lw7tY
• Here's the trailer for Being Human creator Toby Whithouse's much-anticipated episode, "The God Complex," which airs this Saturday (September 17) at 9/8c.
• And naturally Digital Spy has pictures…
• Did we mention that Doctor Who is nominated for Best TV Show, Best Science Fiction Actor (Matt Smith), and Best Science Fiction Actress (Karen Gillan)? Oh we did? It bears repeating, of course.
• Oh yeah, and Karen, Freema Agyeman, Billie Piper, Catherine Tate, Alex Kingston, and Carey Mulligan have all reached the Round of 16 in the Anglo Fan Favorites tournament, where they are set to do battle with the ladies of Harry Potter (Helena Bonham Carter, Emma Thompson, Emma Watson, Maggie Smith, and JK Rowling).
• This week's companion is Jamie McCrimmon, who served in more of the Doctor's adventures that anyone else so far. This despite having no idea how to use a fridge or a TV set, let alone a TARDIS. Turns out you don't have to, you just have to look good in a kilt.
• The Guardian have written an ebook about Doctor Who's resurrection, entitled Who's Who? The Resurrection of The Doctor. It features interviews with all the key players; Eccleston, Piper, Tennant, Smith, Moffat, T. Davies, etc, and attempts to describe just how astonishing a TV rebirth the show has enjoyed. (via Seen It)
• Speaking of books, the Doctor Who official Facebook page is asking which classic Doctor Who books should be re-issued next. Vote and make your voice heard.
• And finally, hats off to Colin Baker, the Sixth Doctor, who has followed in the footsteps of Jon Pertwee and Nicholas Courtney to take on the honorary role of President of the Doctor Who Appreciation Society. His acceptance speech came in the form of a tweet: "Was voted DWAS president today – following JP (MR Charisma) and The Brig (MR Wonderful) – greatly honored and touched. Thanks DWAS!!" (via Digital Spy)
Read More
Filed Under: