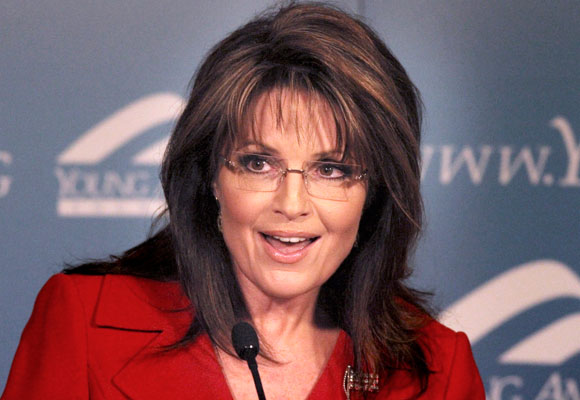 Provocative British documentary filmmaker Nick Broomfield has taken on one of the more polarizing figures in American politics with his film Sarah Palin: You Betcha! out in cinemas on Friday (September 30).
Broomfield — probably best known for his documentary, Kurt & Courtney, about Kurt Cobain and Courtney Love — adopts a Michael Moore-style approach with his film. He traveled to Palin's hometown of Wasilla in Alaska where she held office as the local mayor. He says: "I wanted to do a sort of diary of my journey. I rented a house, and I was there for the better part of three months in which time I got to know a lot of the people very well, and made lots of attempts to get to Sarah and her family and her friends, and the film is really a record of that process I suppose."
He interviewed the former Alaska governor's parents, as well as many who'd worked with her in the political arena, but he never got a one-on-one interview with his subject. He told me: "It was frustrating, and I think she didn't do herself any favors by not being charming and cooperating on camera. I think that the biography, which is what it is really, is very accurate, because I think you tend to get a more accurate biography from the people who know somebody incredibly well and are very close to them than you do from the person [herself] who generally tends to tell you what they want to tell you."
His approach raises questions about fairness and balance because many of the people he spoke to were disgruntled former colleagues, associates, and employees who may have had an axe to grind.
In defense he says: "I felt that it's a very accurate film about her personality and the way she operates, and most of the people we interviewed were likable, reasonable people. I felt what they said on a whole was pretty balanced and considered. I didn't feel there was a vengefulness in what they were saying."
So what are some of Broomfield's conclusions about Sarah Palin after putting together his documentary? His response: "I think she has this wonderful, charismatic, bubbly personality which draws people in initially. But she's also an evangelical Christian who I think believes in God and the devil and good and bad and I think at the point where you disagree with her, you suddenly become the devil."
Clearly that's not an opinion that Sarah Palin and her supporters would share — they no doubt would brand Broomfield as part of the liberal media elite.
I asked Nick Broomfield what his response would be to such a charge. He told me: "I would say that I didn't have an agenda going into it. The film really is a diary of what I went through, that I tried very hard to represent different points of view. I feel it's a fair and accurate portrait of her, and I don't feel I went out to do her in."
Read More
Filed Under: