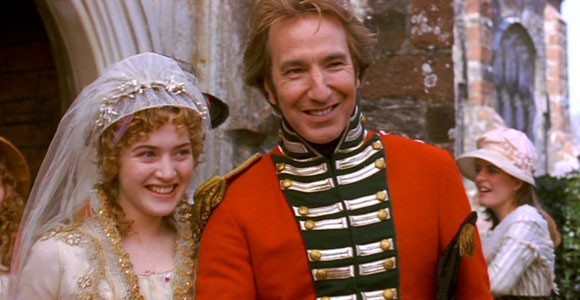 Continuing our salute to Mr. Alan Rickman, we move forward from the actor's massive Die Hard success in 1988 to the decade that contains some of his strongest and most varied work: the 1990s.
When Hollywood expected Rickman to zig, he deliciously, juicily zagged: instead of immediately adding to his cavalcade of villains, he opted to do 1990's Truly, Madly, Deeply, directed by Anthony Minghella. He played Jamie, a mischievous, mustached cellist who just happens to be dead. As a ghost, he appears to his grief-stricken ex (played by Juliet Stevenson) and, yes, teaches her to be a bit more alive.
As fan Kim writes, "I just fell in love with him when I saw him in Truly Madly Deeply." How could you not, really, with scenes like this, featuring Rickman and a luminous Stevenson lustily one-upping each other's romantic overtures and topping it all off with a joyful rendition of The Walker Brothers' "The Sun Ain't Gonna Shine (Anymore)"?
Rickman DID play a villain in 1991's Robin Hood: Prince of Thieves, thoroughly enjoying himself, eating every piece of scenery in sight and rocking a leonine mane as the Sheriff of Nottingham. Rickman fan Carol notes one of his most memorable lines in the movie: "Locksley! I'm gonna cut your heart out with a spoon." Which you can watch in the clip below:
Alan followed that up by playing a cuckolded wealthy finance man in Stephen Poliakoff's Close My Eyes (also from '91), opposite Luther star Saskia Reeves and a young Clive Owen. Reeves plays Rickman's wife, who embarks on an incestuous affair with her brother (Owen). Not many people can upstage Clive Owen at the height of his beauty, but for many fans, Rickman does just that in the movie.
Many fans praised Rickman for his performance as Colonel Brandon in Ang Lee's 1995 adaptation of Austen's Sense and Sensibility. "There is a scene in Sense and Sensibility where he is looking at Kate Winslet's character, and your heart nearly leaps into your throat because you feel his longing," RJ writes. "No one else does that for me. His ability to convey a message with just one look is what a true actor should be able to do."
Alan won an Emmy, one of his few career awards, for 1996's made-for-TV movie Rasputin: Dark Servant of Destiny. Kim writes, "I believe you have to see this to actually understand how well he played the character of the controversial Mad Monk in this film. It was one of his best performances on screen – and one he, thankfully was for once recognized by the so-called 'awards' juries!"
Rickman displayed major comedy chops in the 1999 films Dogma (in which he played the sardonic seraph Metatron) and Galaxy Quest (which saw him play a fussy British actor on a cheesy sci-fi show). Both films boasted high-powered casts: Dogma had the likes of Damon, Affleck, Hayek, and well, Morissette, while Quest co-starred Tim Allen, Sigourney Weaver, Sam Rockwell, and Tony Shalhoub. But, as Niccole writes, he "steals every scene" in Dogma, and Val says, "He OWNED Galaxy Quest. In a fun ensemble movie with a fantastic cast, he just owned it. I love the moment of utter shock when he first sees the ship and says 'oh . . . my god . . . it's real' as if the words are being torn from him."
Tomorrow, the '00s and of course, Severus Snape.
Read More
Filed Under: