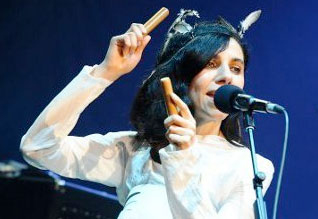 Well now, here's a turn-up for the books. Last night saw the 2011 Mercury Music Prize ceremony take place, and as always there was a shortlist of ten remarkable albums, and a panel of judges picked out the one they felt was the most worthy of a £20,000 check and a pat on the head.
Their remit is simply to judge which album is the best, purely on musical merits, although there is a slight tweak to the shortlisting, in that there's always a token jazz / classical album on the list (say hello, Gwylim Simcock). They never win, but there is always one.
Here's the shortlist in full:
Adele – "21"
Anna Calvi – "Anna Calvi"
Elbow – "Build A Rocket Boys!"
James Blake – "James Blake"
Katy B – "On A Mission"
Metronomy – "The English Riviera"
PJ Harvey – "Let England Shake"
Tinie Tempah – "Disc-Overy"
Everything Everything – "Man Alive"
King Creosote & Jon Hopkins – "Diamond Mine"
Gwilym Simcock – "Good Days At Schloss Elmau"
Ghostpoet – "Peanut Butter Blues & Melancholy Jam"
What you'll notice right away is that Team Anglophenia favourites Elbow (who won two years ago) are on there. As is Tinie Tempah, and of course the all-conquering Adele (who, let's be honest, does not need the acclaim, or the money, or another trophy for her sideboard).
But in the end it was PJ Harvey who walked away with the winnings, for her exceptional album of war-inspired songs, "Let England Shake." For proper chin-strokey music types, it was the only album the awards panel could have chosen and kept the award's serious credibility alive, much as some people (hello!) would have rather seen it go to, let's say, Everything Everything. It also means that for the first time in the award's history, someone has won it twice.
Here's the moment the result was announced, and Peej's speech:
What, no sobbing?
Oh, and here's a song from that award-winning album; "Bitter Branches"
Should someone else have won? Tell us here:
Read More
Filed Under: